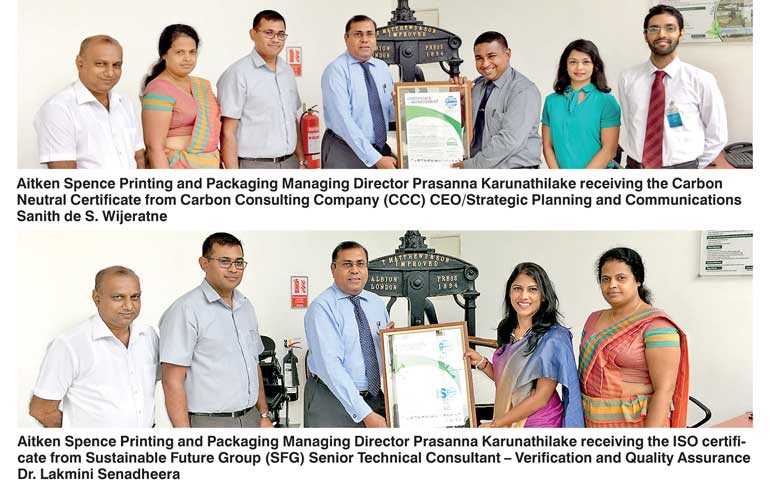 Industry leader Aitken Spence Printing renewed its carbon neutral certification for the fourth consecutive year. The company was the first carbon neutral printing facility operator in South Asia. In accordance with the related requirements of The Carbon Neutral Protocol for the stated activity, the greenhouse gas (GHG) emissions are measured and has reduced to net zero through internal changes and/or externally through carbon credits/offsets.

Aitken Spence Printing minimises its environmental impacts through a comprehensive environmental management system.

"Globally, a growing number of customers seek to minimise their environmental footprint of the products they purchase. We are positioned as a preferred print solutions provider to leading global and local brands who seek to maintain the highest quality of their products while having a responsible supply chain, which their customers increasingly demand," said Aitken Spence Printing Managing Director Prasanna Karunathilake.

The methodology undertaken to measure and reduce GHG emissions assessment is in accordance with the World Business Council for Sustainable Development (WBCSD) and the World Resources Institute (WRI) GHG Protocol and ISO 14064-1 Standard, and externally verified in accordance with The Carbon Neutral Protocol and ISO 14064-3 Standard.

The Carbon Neutral Certification is given by The Carbon Consulting Company (CCC) which is a Sri Lankan consultancy firm specialising in providing integrated sustainability business solutions. Carbon credits used were retired from mini hydropower projects in Sri Lanka.

Alongside receiving the carbon neutral certification, Aitken Spence Printing obtained the ISO 14064-1 certification for the period August 2017-August 2019 by a total direct and indirect carbon emission of 1,321 tons of Carbon Dioxide Equivalents (CO2e). The ISO 14064 standard (published in 2006) is part of the ISO 14000 series of International Standards for environmental management. The ISO 14064 standard provides governments, businesses, regions and other organisations with a complimentary set of tools for programs to quantify, monitor, report and verify greenhouse gas emissions. Aitken Spence Printing obtained the certification upon the successful completion of the auditing process by Sustainable Future Group (SFG) – SFG provides accreditation and verification services and is accredited by the Sri Lanka Accreditation Board (SLAB) who is a member of the International Accreditation Forum (IAF).

Aitken Spence Printing is Sri Lanka's leading printer that was the first LEED Gold certified printing facility in South Asia and was recognised for the fourth consecutive year as the industry's best, by winning the Gold award in the Printing and Related Services category at the National Business Excellence Awards 2017. The Company has pioneered many innovative benchmarks and enriched the industry with sought after professionals over six decades. Aitken Spence Printing offer a range of services from packaging, publications, magazines, seasonal products such as calendars and diaries; and caters to a wide range of industries such as tea, apparel, FMCG and pharmaceutical. Operating in a fiercely competitive industry, Aitken Spence Printing enjoys a leading market share in the printing industry of Sri Lanka. The company was also the first LEED-certified, carbon neutral printing facility operator in South Asia.