Viber, the leading mobile communications app offering free messaging and HD-quality calls, today announced that Iraj Weeraratne, one of the most popular music artists from Sri Lanka, has joined Viber Public Chats. Iraj's Public Chat will allow fans to get a sneak peek into the life of the acclaimed artist.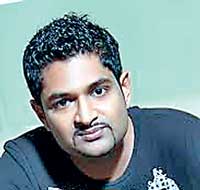 Iraj is a Sinhalese R&B and hip hop artist, music producer, singer and TV presenter who has been conferred as a revolution among the Sri Lankan music industry critics. He has gained much fame by working with internationally acclaimed billboard artists such as Sean Kingston, Soulja Boy, RIO, Chingy, Truth Hurts and Kurupt. He has penetrated into the South Asian music industry with his hit singles and has his own show airing on Swarnavahini TV called 'Iraj Online', one of the most popular youth music shows in Sri Lanka.

Launched in November 2014, Public Chats allow users to discover, share and follow live discussions from a wide range of celebrities, personalities and brands across many genres including sports, music, fashion, entertainment and more, using the familiar interface of the instant messaging platform. Anyone on Viber can follow as many of these chats as they like on their desktops or mobile devices.

Conversations are multi-media and include text, photos, video, stickers, web links and much more. Users can invite friends to follow the Public Chats that interest them, and can share content as well. The most popular chats are featured on the home screen of the Public Chats section of Viber. Users can easily search to find out who is chatting, or they can access a chat directly through its customised URL.

"We are extremely excited to share that Viber users can now follow their favourite artist Iraj Weeraratne on Viber Public Chats. Viber is continuously striving to get top talent on this platform. Iraj Weeraratne's Public Chat will allow Viber users to get an insider's view into his world on a regular basis," said Viber India Country Manager Anubhav Nayyar.

Iraj is the first Sri Lankan celebrity to join Viber Public Chats and has received over whelming response. On the association, Iraj Weeraratne said, "I am really excited to be on such a popular social platform. This would give me a new avenue to connect with my fans and supporters. I'm looking forward to an interesting and interactive journey on Viber Public Chats."

Viber is a leading messaging, voice and video service that lets everyone in the world connect – freely. Users can send free text messages, fun stickers, photos, videos and doodles, share locations, make free HD-quality calls and communicate with Push-To-Talk. With Viber Out, users can make low-cost calls to any phone number around the world. Viber is available for iPhone, iPad, Android phones and tablets, Windows Phone, BlackBerry, Blackberry 10, Windows, Windows 8, Mac and Linux devices over 3G/4G or Wi-Fi connections. With over 573 million unique users in 193 countries, Viber is constantly innovating by introducing new platforms and adding fun new features like Public Chats. Viber is a Rakuten Group company.