Green Zone, an exciting new brand in entertainment and events presents DJ Hanna of FTV Dubai fame, as she gears up to rock the Rugby Rumble, Green Zone after party and spin at some of the best clubs and lounge bars around Colombo. Following up on the success of last year's much hyped DJ Da Candy tour, Green Zone hopes to amp up the excitement yet again with one of the hottest female DJs around the globe. DJ Hanna with her unique yet energetic vibe will treat Sri Lankan dance music lovers to a one-of-a-kind party experience on 5 September, 8 p.m. onwards at the CR&FC Grounds.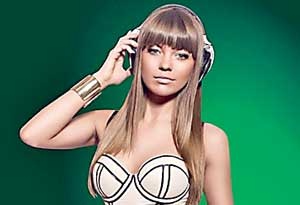 A former model, DJ Hanna has been making waves in the dance music circuit with her distinctive style. Starting off her career as a DJ in clubs in Ukraine, DJ Hanna has now a global presence travelling between Russia, Egypt, Italy, Arab Emirates, South Africa and many other countries. One of the most anticipated gigs in her career has been her performance at Studio F in Dubai. Specialising in house music, she has been able to charm her audience with her energetic personality and confidence, taking the party to a whole new level.

Rugby Rumble, which will take place on 5 and 6 September, is a thrilling and fun seven-a-side Tag Rugby Tournament that brings former college rugby stars to the pitch. Rugby Rumble will combine the excitement of sport and music with a carnival-like atmosphere that is topped off with the Green Zone after parties; two nights of sensational entertainment with an exciting line up of international and local stars. DJ Hanna will perform on 5 September and popular local band Glory and DJ Bonnie will perform on 6 September.

After her performance at Rugby Rumble, DJ Hanna will embark on the Green Zone Club Tour, held for the second successful year. She will spin at some of the hottest clubs/lounge bars in Colombo and you can catch her in action from 8 to 12 September. Be a part of this unforgettable Green Zone party experience as DJ Hanna gears up to set Colombo dance floors on fire.