LOS ANGELES (Variety.com): At the multiplexes this year, it was a clear case of the haves and have nots.

Thanks to monster hits such as 'Furious 7', 'Jurassic World', 'Avengers: Age of Ultron' and 'Star Wars: The Force Awakens' – all four of which will end up among the top seven highest-grossing films – ticket sales soared to record levels. For the first time in history, the domestic box office will hit $ 11 billion, but that hefty number was achieved on the back of a small collection of pictures.

Through Christmas weekend, the top ten films in 2015 accounted for nearly 35% of overall ticket sales. Last year that number was less than 25%.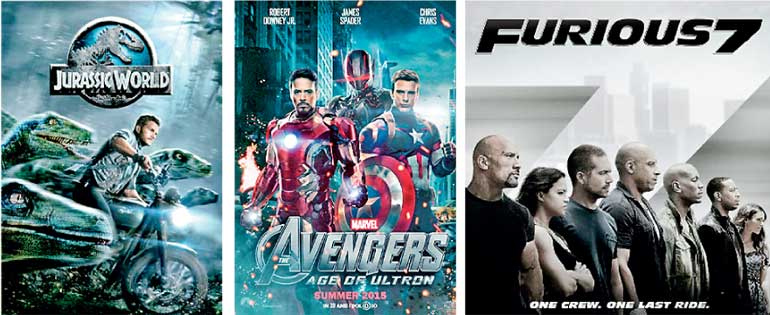 "A significant portion of the overall gross was coming from far fewer films," notes Chris Aronson, Fox's domestic distribution chief. "Yes, it was an up year, but that was driven by fewer films than normal."

And while there was a great preponderance of global-spanning blockbusters than ever before, with five movies likely to exceed $ 1 billion in revenue for the first time, the wealth was more concentrated. Here's a sign of how the riches weren't divided as equitably. In 2013 and 2014, thirteen films made more than $ 200 million domestically, while in 2012, eleven pictures exceeded that threshold. This year, only nine films have eclipsed that figure.

For studios that do manage to tap into the zeitgeist, the rewards are plentiful. That latest 'Star Wars' has a good chance of blowing past 'Avatar' to become the highest-grossing film. The mammoth hauls for Jurassic World and Furious 7 demonstrate that even after a decade, these franchises are only increasing in popularity. And films like 'The Martian' and 'Inside Out' rode a wave of critical raves to commercial riches both here and abroad. They manage to enjoy what in television is referred to as 'water-cooler status' – a cultural primacy that has people rushing out to multiplexes to see them so they won't be left out of the conversation.

"The heavy lifting is being done by fewer films, but the ones that work, man do they work," said Greg Foster, CEO of Imax Entertainment.

It's not just that a few films were responsible for a greater percentage of the gross that's signaling the movie business, like the American economy at large, is entering a period of income inequality. Only two studios, Universal and Disney, were responsible for the top six grossing films – the first time that has happened since at least 1980.

Their slice of the overall pie was far greater too. Universal, which fielded "Jurassic World," 'Furious 7', and 'Minions', commanded 22% of the market share and earned a massive $ 6.8 billion globally. In the past 15 years, no studio has gobbled up more 20% of the market and exceeded $ 6 billion in receipts.

For its part, Disney, armed with popular brands such as Marvel, Pixar, and Lucasfilm, exceed $ 5 billion globally for the first time, and currently is seen as a studio superpower without equal.

"The rich got richer and the poor got poorer," said Jeff Bock, a box office analyst with Exhibitor Relations. "This isn't just something we're going to see more of in the future. This is the future. Disney is now a super studio. The other studios can't touch them right now."

The discrepancy in wealth accumulation is squeezing out mid-range hits, Bock and others argue. There is still a week left in 2015, but it appears as thought, the number of films that gross $ 100 million or more will likely be at its lowest levels in five years. A sign that studios are hitting for power rather than average, mashing more home runs and scoring fewer doubles and triples.

The new model also allows films to land with a louder thud than previously suffered. The year had three of the 10 best openings in history with 'Jurassic World' and 'Avengers: Age of Ultron', but also suffered six of the worst wide-release debuts ever with 'We Are Your Friends', 'Jem and the Holograms', 'Burnt', 'The Walk', 'Victor Frankenstein' and 'Rock the Kasbah'. Many of these pictures had big stars and high-profile directors and it didn't make a difference with audiences.

"There is no floor anymore," said Aronson. "We used to be able to open something like 'Victor Frankestein' to $ 8 million and we could do $ 20 million and lick our wounds. But we're going to do $ 6 million on that movie, and that's with Daniel Radcliffe and James McAvoy."