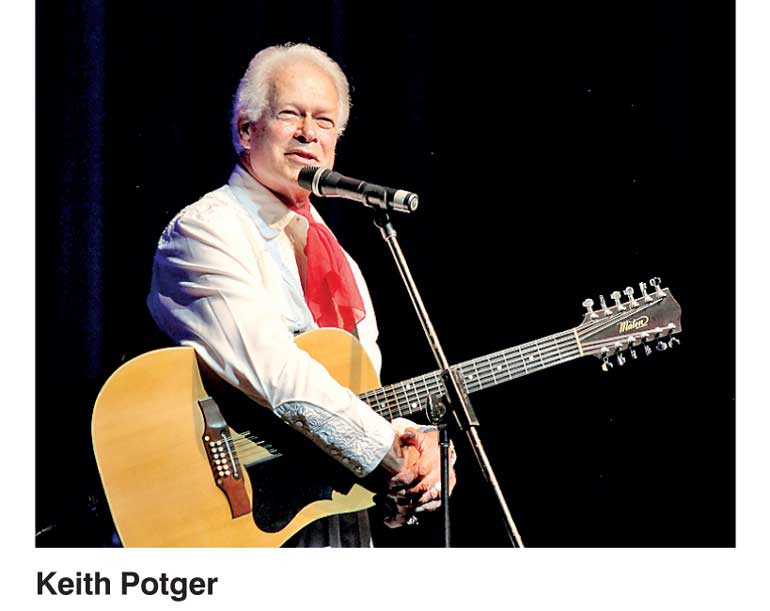 The Country Music Foundation, the organiser of the 2017 Country Roads concert for children, is proud to announce that globally-famous 'Wandering Minstrel' Keith Potger, founder of The Seekers band, has been added to the line-up for this year's 29th anniversary show. The Country Roads concert for children is scheduled for Sunday, 19 March, at the Mount Lavinia Hotel.

Says Keith on his upcoming performance at 2017's Country Roads: "I am looking forward to visiting Sri Lanka." Further details about Keith's tour can be obtained by writing to CMF founder Feizal Samath at [email protected].

Born in Sri Lanka (then Ceylon), Keith's musical career started well before The Seekers first stormed the UK charts in 1965. He is a self-taught musician who studied six-string guitar, banjo, mandolin and keyboards. With an eye to a musical future while still at school, he performed in vocal groups which evolved into the internationally famous The Seekers in 1962.

Taking up the 12 string guitar, he composed the distinctive riffs that are a trademark of The Seekers' chart topping recordings, 'I'll Never Find Another You' and 'A World Of Our Own,' as well as many other singles and album tracks, augmenting the wonderful lead voice of Judith Durham and the boys' ear-catching harmonies and instrumental talents.

The Seekers have toured extensively as a group since 1993. During this period Keith has continued writing and recording original songs. He released his first solo CD 'Secrets of the Heart' in 2004, followed by 'Sunday' in 2007 and in 2010 he released his mostly self-penned third solo CD, 'Smile Now'.

Accompanying himself on his trusty 12-string and six-string guitars, his 'Wandering Minstrel' style of performance includes material from his solo CDs, Seekers favourites, along with songs and anecdotes from his long career in the music industry.

The years 2015 and 2016 saw Keith on the road again presenting his solo concerts to audiences in Queensland and New South Wales as well as visiting Nashville to co-write material for his fourth solo CD.

Sponsors of the concert include HNB, Dilmah, BBDO, LOLC, Dialog and Cargills.