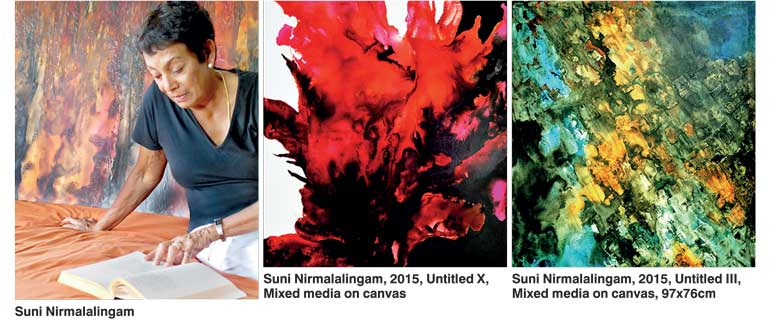 "The inspiration for my art is simply the sheer enjoyment and joy it gives me to paint in my own style. I don't have a message to send, I'm not making a statement and it may not be to most people's taste," declares contemporary artist Suni Nirmalalingam of her work. Suni's forthright and no-nonsense description of her talent does not do justice to her art, which reflects her fine-honed sense of composition and understanding of the play of colour and light that give depth and perspective.

The Harold Peiris Gallery will open its doors on 17 and 18 October to a collection of abstract art by Suni. Aptly named 'Undefined II', the exhibition is the sequel to her debut showing 'Undefined' which was in 2002. Undefined II is the result of a persuasive family and encouraging and supportive friends, particularly Nayantara Fonseka, says Suni.

The title of the exhibition best describes her art. Most of Suni's paintings are untitled, and so, are open to interpretation. Her work is imaginative and ranges from the ethereal and wraith- like to the bold, energetic and well defined. Her colours, shapes and use of light and shade form a fluid composition that gives one the freedom to explore and discover one's own meaning and attraction to a painting.

Suni is a self-taught artist who has had no formal training. She likes experimenting and her paintings are invariably determined by her 'mood' at the time she puts paints to canvas. The visual experience she creates is free and fluid. Her paintings wash over you, as your eyes wander from muted, in calm, cool or earthy tones to an explosion of vibrant, orange and pink, then on to a fusion of elemental black, beige and grey interrupted by a sudden blaze of colour.

Suni uses acrylic paints and varies her technique from brush to palette and from textured to flat forms. She likes to use different styles of expression and seeing the blank canvass evolve and unfold into a piece of art.

She considers herself fortunate to have been commissioned for artwork in different environments of personal, residential and commercial surroundings. Having to please the client plus meet the interior decorator's requirements, have been very challenging and has given another dimension to her creativity.

Suni took up painting regularly about two decades ago after the commitment to family and home allowed her more time to indulge her flare. She enjoys playing golf, reading, and spending time with her grandchildren. She paints in the tranquil surroundings of her lovely colonial home tucked into a cul-de-sac in the city. Her home shows no evidence of her paintings. "My art doesn't suit this house," she says in a matter of fact way.

"I am very grateful to all those whose encouragement, inspiration and confidence in me has helped me believe in myself. I say a big 'thank you' to them for their support," says Suni.