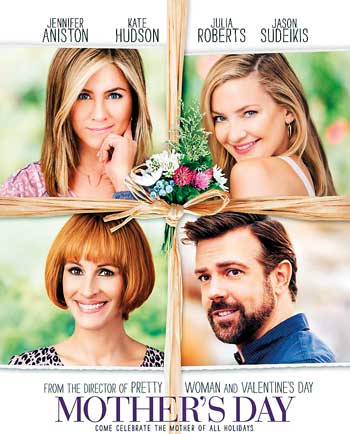 Ceylon Theatres once again introduces a movie with a difference to its audience in this star-studded ensemble comedy, which unfolds a series of interlocking stories about motherhood. A divorced mother of two (Jennifer Aniston) falls for a guy with two kids of his own (Jason Sudeikis), a young woman (Britt Robertson) tries to find her biological mom (Julia Roberts), and an overstressed mother (Kate Hudson) is visited by her bickering parents. Experience how each of them handle their relationships with the ensuing funny moments that make it a movie worth watching.

Mother's Day is the latest holiday-centric movie directed by Garry Marshall, who previously helmed Valentine's Day and New Year's Eve.

Screening from 5 May, movie timings are Majestic City Ultra 10:15 a.m., 1:15 p.m., 4:15 p.m. 7:45 p.m. and Fri/Sat 1:45 p.m. Empire Gold at Independence Square Arcade 1:30 p.m., 4:30 p.m., 7:30 p.m. and 10:30 a.m. on Sat/Sun and 10:20 p.m. on Fri/Sat.