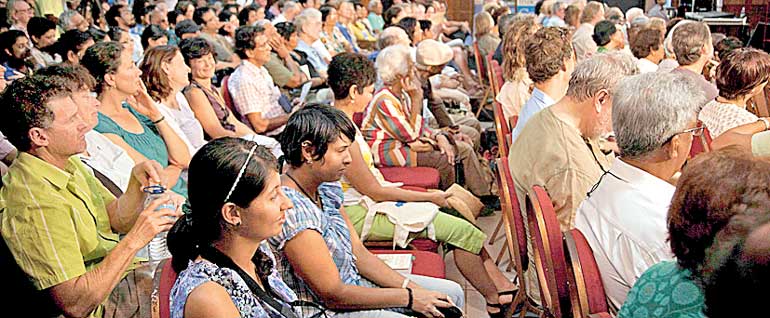 GLF 2012 DBC Pierre and moderator Morgan Meiss
With tickets for the 2016 Fairway Galle Literary Festival going on sale in December 2015, and the authors and program set to be unveiled in a few weeks, it is time to put some serious thought into making plans to take advantage of the spirit and charm that the three festival weekends have to offer.

Booking early is particularly important in 2016, with the Festival extending beyond Galle for the first time, to the culturally rich Kandy and the yet-to-be-fully explored Jaffna.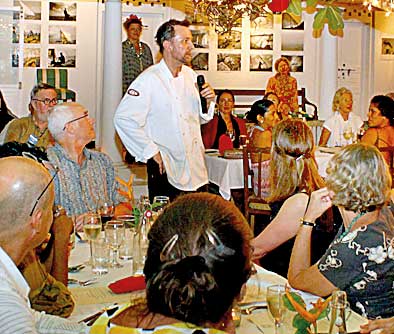 A major new development for the 2016 Fairway Galle Literary Festival is its first-time selection of wow.lk as the exclusive on line ticketing partner to facilitate ticket purchases at your convenience. Tickets will go on sale in mid-December 2015. Additionally, we will also feature physical box office venues in Colombo, Kandy, Jaffna and Galle, to cater to those who prefer to buy tickets in person.

As a Festival that has been known to feature prominent international literary personalities, including DBC Pierre, Tom Stoppard, Richard Dawkins, Germaine Greer, Joanna Trollope and Gore Vidal, festivalgoers can once again look forward to a diverse and dynamic group this year too, to enrich and enliven their 2016 Fairway Galle Literary Festival experience.

Thus, with this plethora of choice being offered, prior planning is a must to make sure you don't miss out on your favourite author or personality! Hand in hand with this superb international contingent, there will also be a number of excellent local literary talents, both varied and rich in their capabilities, undoubtedly showcasing the depths of skill Sri Lanka has to offer.

From literary events, such as authors 'in conversation with', one-on-ones, panel discussions, along with book readings, workshops, literary lunches and dinners, as well as book signings, photos and chats with authors, one can look forward to a number of fascinating author interactions at the Festival, which are both intimate and engaging.

Two anticipated introductions to the Festival will be the Fairway National Literary Award recognising a Sinhala, Tamil and English published novel and DSC Prize 2016 Award Ceremony.

All in all, one of the hallmarks of the 2016 Fairway Galle Literary Festival will be the true uniqueness of the experience, which will be further heightened thanks to the multitude of quirky fringe events, comprising of theatre, music, arts and other forms of expressions at their most pure, adding to the overall mix of this eclectic five-day festival.

Gourmet events will also figure prominently at this year's Festival with its Hospitality Partner Jetwing leading the way with its one-of-a-kind, five-star Jetwing Lighthouse property in Galle. Added to this, accommodation partners in Galle will be offering highly unique boutique hotel experiences at the Elysium Collection, Taprobane Collection, Amangalla, Owl and the Pussycat, Fort Printers, Galle Fort Hotel, Fort Bazaar Hotel & Spa, Why House, Kahanda Kanda, Tamarind Hill, and the Lake House in Koggala. Additionally, Galle Face Hotel will host writers in Colombo, Queens Hotel has come on board for Kandy, and Jetwing Yarl will host attendees in Jaffna.

Because of the deep involvement and support of partners the Festival has managed to further raise its profile both locally and internationally, with the UK's Harpers Bazaar having already dubbed it the 'No.1 Literary Festival in the World', which has enabled the continuing attraction of internationally famous writers and visitors.

The title sponsor of the Festival is Fairway Holdings, with additional support provided by Land Rover, Dialog, Colombo Jewellery Stores and Anim8, while the Wijeya Group is the Official Print Media Partner and TNL is the Official Electronic Media Partner. The British Council and the Goethe Institute have also been instrumental in partnering the Festival to fly down truly world-class authors to be featured. A full list of 2016's authors will be unveiled mid-November.