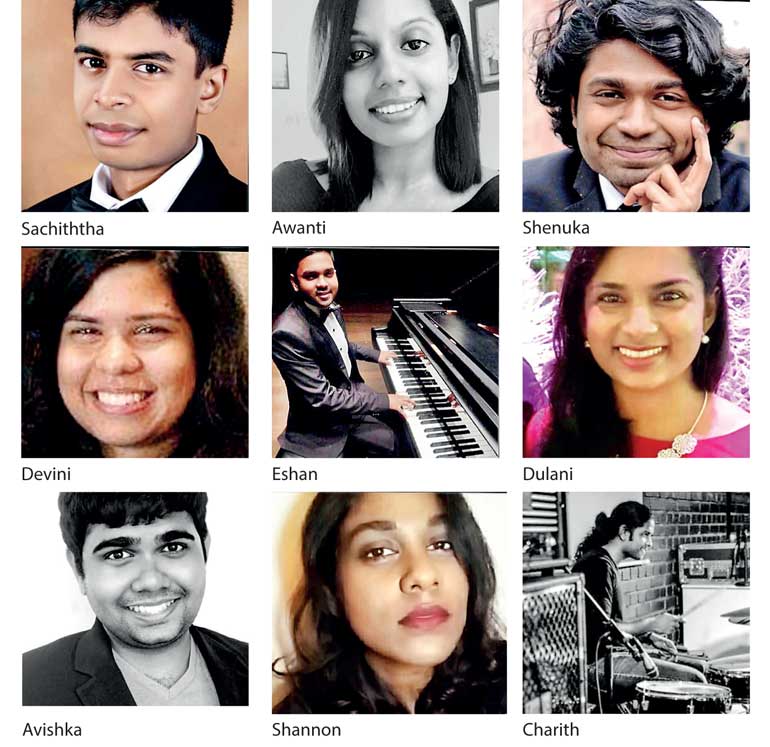 'MuzikAAAle – An evening of fun classics' will be presented by the past and present students of well known piano teacher Ruvini Hapugalle Gunasekera who is celebrating 25 years of dedicated teaching. The concert will be held on Friday 28 July at 7 p.m. at the Bishop's College Auditorium.

MuzikAAAle will not only showcase high level performances. It will also present many unique and creative musical arrangements. Some of these arrangements will be performed for the first time in Sri Lanka.

Current student of music at Singapore's Lasalle College of Arts, solo performer at the Symphony Orchestra of Sri Lanka, award winner, and multi talented musician, Eshan Denipitiya will display his brilliance in an original fusion arrangement of Kapustin's Etude Op.40, No.1 with the versatile drummer Jithendra Vidyapathi – son of renowned drummer Ravibandu. Blending the sounds of the piano with an eastern instrument in a western Classical work will be a unique experience for the audience.

Eshan will be joined by one of Sri Lanka's most talented young musicians, Sachiththa Fernando, whose composition 'Battle of the Space Warriors' was premiered by the Symphony Orchestra of Sri Lanka in 2014, in the impressive and enjoyable Bond/Mozart medley. In this brilliant arrangement, the two young musicians cleverly weave (on violin and piano) music from the famous Bond movies with popular pieces by Mozart.

Avishka Mendis, who is currently on a quest to encourage young people to enjoy music through his open mic sessions all over the country, will be singing a song he composed for this concert titled 'Hearts and Minds'.

One of the things Ruvini aims to do in MuzikAAAle is to bring to light the musical creativity in her students by providing them a platform that will encourage the young musicians to attain higher levels of performance.

Devini Senaratne will play a beautiful composition, 'Sketches from Serendip III', composed by her talented brother Nuwan Senaratne.

MuzikAAAle will also present many popular Classical works by Chopin, Schubert, Greig, and Brahms – performed as piano solos and duets by Ruvini's award winning senior and intermediate students. There will be delightful jazz pieces too – performed by Shenuka Jayasinghe and Charith Fernando.

The grand finale will be the much anticipated fun medley of songs by the popular group Queen presented by Ruvini's past students, joined by talented guest performers Charith Fernando on drums and guitar, and Shannon Salgadoe on vocals. In this medley, the audience will witness the rare sight of young musicians'moving from one musical instrument to another during the piece. This will add further excitement to the grand finale!

Tickets for MuzikAAAle are now available at the Bishop's College Auditorium.