The grand finale of 'LAUGFS On Stage', LAUGFS's very own in-house talent show, was held recently at the Musaeus College Auditorium, showcasing the many creative talents of its diverse team across the group.

The event was inaugurated by Chief Guests LAUGFS Holdings Chairman W.K.H. Wegapitiya and Group Managing Director Thilak De Silva. The finale was adjudged by a renowned judging panel of celebrated Sri Lankan artists, which included Nemali Budawatta, Samitha Mudunkotuwa, Lakshman Wijesekara and Ramesh Uvais. The auditorium was packed with over 750 spectators, who were treated to a fun-filled evening of entertainment by the many talented colleagues on stage.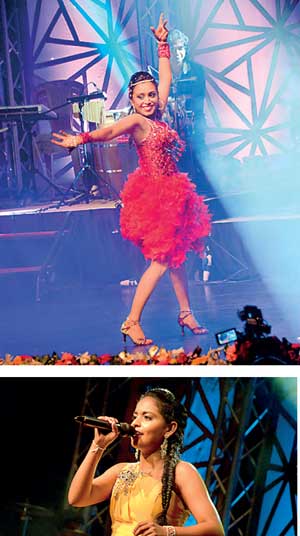 A project by LAUGFS HR, the event drew in an overwhelming number of applications from staff across the group for a range of categories, including solo and group dancing, singing as well as instrumental acts. The enthusiastic participants were screened through two selection rounds by a panel of eminent judges consisting of Jayantha Rathnayake, Nemali Budawatta, Ramesh Uvais and Lakshman Wijesekara.

A series of workshops were also carried out by industry veterans, Jayantha Rathnayake and Nemali Budawatta, sharing their experiences and providing invaluable guidance for the contestants to help sharpen their talent and to prepare them for the finals.

"As a diverse conglomerate with over 4,000 staff scattered across Sri Lanka serving over 20 industries, creating effective engagement with our staff is always a challenge. Events such as this help us to embrace and celebrate the diversity of our people, and to bring them onto one unique platform appreciated and recognised by all," remarked LAUGFS Group Chief Human Resource Officer Dulani Nissanka. "This event will not only help recognise and stimulate creativity among our colleagues, but will also provide a platform to showcase their extraordinary talent in front of the entire company," she further added.

The grand finale of the talent show was packed with entertainment provided by more than 40 contestants, with some exciting singing, dancing and instrumental acts lined up. The music for the evening was provided by a live orchestra directed by Jayantha Rathnayake. The audience was treated to a spectacle of sensational performances delivered amidst the resounding cheer of colleagues.

H.H. Dananjaya from LAUGFS Leisure clinched the trophy in solo singing category with a breathtaking performance. H.R. Lakshani from LAUGFS Corporate IT won the second place, while Thiwanka Ranweera from LAUGFS Gas and Sidantha Peiris from LAUGFS Beverages were declared joined third place winners after a close competition. Upuli Dinuka and Manoj Kumara, both from LAUGFS Supermarkets, battled it out for the solo dancing category trophy, with Upuli finally being adjudged the winner.

Rehana Elizabeth from LAUGFS Eco Sri clinched the third place of the category. Winners were awarded with trophies and cash prizes, with all contestants presented with certificates amidst the applause of their colleagues, families and well-wishers.

LAUGFS is one of the largest diversified business conglomerates and a trusted name in Sri Lanka. Founded in 1995, LAUGFS today has expanded across 20 industries, both local and overseas, establishing a strong presence as a leader and pioneer in the power and energy, retail, industrial, services, leisure, logistics and real estate sectors. With over 4,000 employees and an annual turnover exceeding Rs. 28 billion, LAUGFS continues to expand and empower millions as a trusted Sri Lankan brand.