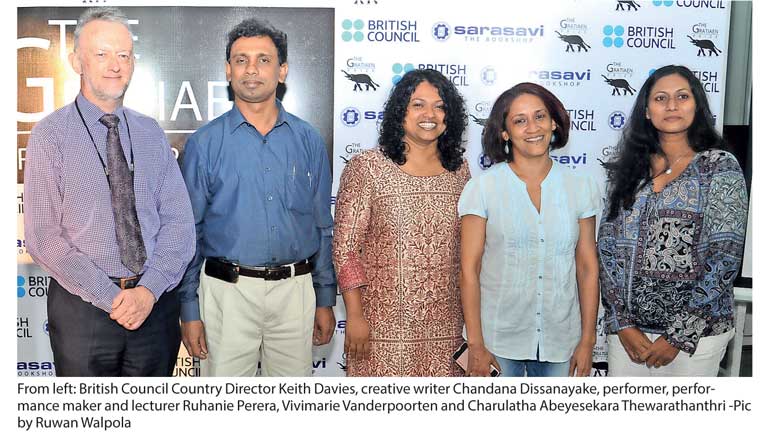 Awarded by the Gratiaen Trust
The shortlist has been announced for the Gratiaen Prize 2016. The Gratiaen Prize is awarded each year to the best submitted creative work in English, written by a Sri Lankan writer resident in Sri Lanka. Both published works and unpublished manuscripts are accepted as submissions to the Prize, founded by Michael Ondaatje. The Gratiaen Prize 2016 is the second to be awarded under a new partnership between the Gratiaen Trust and Sarasavi Bookshop.

The shortlist announcement took place on Monday 3 April, hosted by the British Council, as this event has been since the inception of the Prize and the MARGA Institute facilitated the submission of entries to the prize, as has been the practice for many years.

Each year, the Gratiaen shortlist is known to the judges alone until the evening of the announcement. Authors learn of their selection at the event, where selected passages of their submissions are read to the assembled audience.
The shortlisted works for the Gratiaen Prize 2016 are:
1. Jean Arasanayagam

'Introspection' published poems

2. Rizvina Morseth de Alwis

'The Memory of Loss' novel – manuscript

3. Shehan Karunatilaka

'SHORT EATS' collection of Short stories – manuscript

4. Charulatha Abeysekara Thewarathanthri

'Stories' novel – manuscript

5. Vivimarie Vander Poorten

'Borrowed Dust a collection of Poems' poetry – unpublished

The judges for the Gratiaen Prize 2016 are: Prof. Sasanka Perera (Chair of the judging panel), cultural anthropologist, academic and bilingual cultural commentator; Chandana Dissanayake, academic and creative writer; and Ruhanie Perera, performer, performance maker and lecturer.

The winner of The Gratiaen Prize 2016 will be announced at a final awards ceremony, sponsored by Sarasavi Bookshop Ltd., held in May.

For more information on the judges, the prize and past winners please visit www.gratiaen.com.

For the judges' citation and other queries please contact Minoli Malewana, Gratiaen Trust Secretary: [email protected]/0777335301.