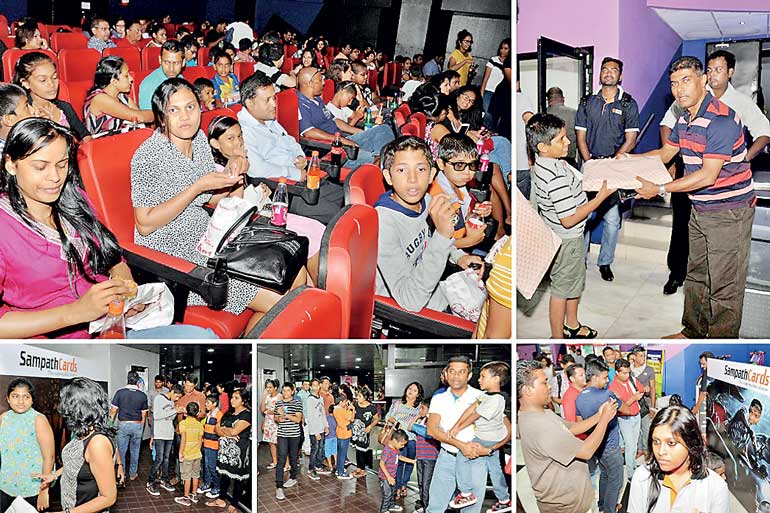 SampathCards, one of Sri Lanka's most sought after credit card brands partnered with Majestic Cineplex to be the Platinum Sponsor for the screening of Jurassic World in Sri Lanka. As a gratuitous gift from SampathCards, an exclusive screening of the show was presented to Sampath Credit Cardholders on 13 June, giving them the opportunity to view the much anticipated Jurassic World Movie following its international premier, sharing the much awaited experience with the rest of the world.

As the Platinum Sponsor of Jurassic World, SampathCards is also offering its Credit Cardholders with a delightful and exclusive offer which allows them to purchase two tickets and receive a third ticket for free to watch the Jurassic World at Majestic Cineplex Platinum 3D Cinema, Colombo. Valid till 13 July for tickets purchased at the Majestic Cineplex, this offer provides Sampath MasterCard and Visa Credit Cardholders the unique chance of viewing the eagerly awaited blockbuster in a real-life ambience with the great company of family, friends and loved ones.

SampathCards strives to continuously reaffirm customers of its offering as the 'responsible choice' due to the abundance of features, benefits, and lack of hidden charges. Commenting on the promotion, a Sampath Bank spokesman said: "We are elated to present our cardholders with this promotion that they can enjoy with both family and friends, and it's very encouraging to see the response it has received. SampathCards continuously invests to stay at the frontier of credit cards in Sri Lanka by offering not just credit cards but by also providing the guidance to enable our customers to use their cards to the maximum in ways that enrich their lives. We're certain that in the coming weeks, many of our customers will avail the offer and enjoy the experience." Visit www.sampathcards.lk or call 0112 300 604 for more details.