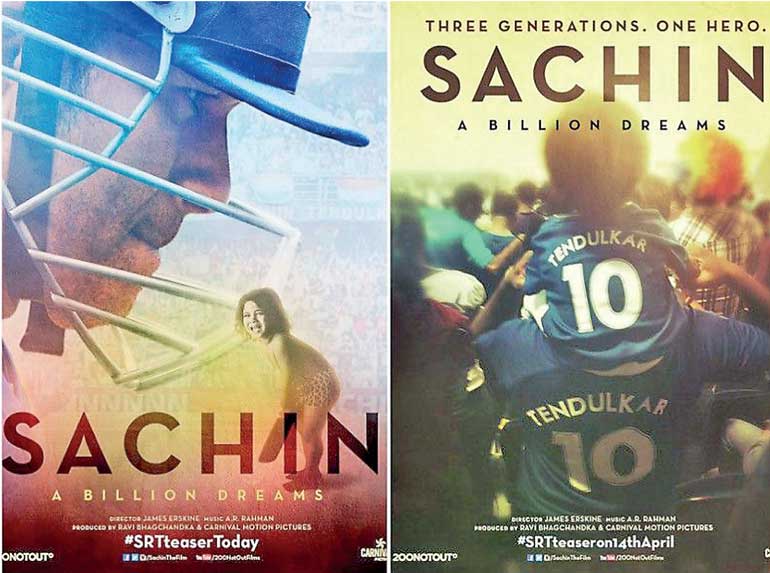 'Sachin: A Billion Dreams' to hit theatres on 26 May
Reuters: Indian cricketing legend Sachin Tendulkar last week said his upcoming biographical film was not just about cricket and would show other aspects of his life too.

Tendulkar, the most prolific international run scorer in cricket history, made the comment in Mumbai at the launch of the trailer of the film, 'Sachin: A Billion Dreams'.

The film describes the cricketer's personal as well as his life on field in detail and also reveals few aspects of his untold life.

Apart from Tendulkar, other cast and crew of the film, including the producer, Ravi Bhagchandka and director, James Erskine, were also present at the event.

Tendulkar retired from the game in 2013. In a career that spanned over 24 years, Tendulkar created many records, few of them being scoring 100 centuries and playing 200 tests, which in cricketing world are considered to be remarkable feats and nearly unachievable.

Produced by Bhagchandka and Carnival Motion Pictures, the film is slated to hit the theatres on May 26, 2017.
Indian billionaire plans $150 m 'Mahabharata' movie
AFP: A Gulf-based billionaire is planning to smash the record for the most expensive Indian movie by splashing out $150 million to make a film of the Hindu epic "Mahabharata".

The cost of producing the two-part extravaganza is set to dwarf that of "Baahubali", which is India's biggest budget film to date at around 4.5 billion rupees ($45 million).

"I believe that this film will not only set global benchmarks, but also reposition India and its prowess in mythological storytelling," said businessman B.R. Shetty in a statement late Monday announcing the project.

"I am confident that this film will be adapted in over 100 languages and reach over 3 billion people across the world," added the Indian billionaire, who lives in the United Arab Emirates.

Filming is due to start late next year with the first instalment set to hit screens in early 2020, the statement said. It will be released in several Indian languages and dubbed for foreign audiences as well.

The blockbuster, which will be directed by south Indian filmmaker V.A Shrikumar Menon, will be the latest retelling of the "Mahabharata", an ancient Sanskrit story about a battle between feuding princes which includes the "Bhagavad Gita".

It has had many screen adaptations, including a highly successful television series in the 1980s, and inspired a number of films.

The announcement comes before the release next week of the second and final instalment of "Baahubali", a Telugu- and Tamil-language film featuring elaborate battle scenes. The combined cost for the two parts was about $45 million.

While budgets for Indian movies are rising they are still well short of those in Hollywood, where a blockbuster often costs more than $200 million to make.