First time a children's choir from Sri Lanka wins Gold at an international competition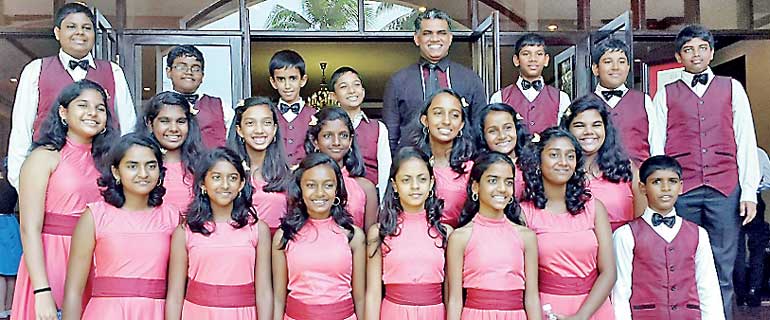 Proving once again that musical talent in Sri Lanka is of exceptional standard, the Revelations Academy Children's Choir comprising 21 children between the ages 10 to 14 years, made history by becoming the first-ever Sri Lankan children's mixed voice group to win a Gold Diploma at the recently concluded fourth Vietnam International Choir Competition in Hoi An.

The competition organised by INTERKULTUR which saw diverse choirs participate from Germany, Indonesia, Malaysia, Chinese Taipei, and Hong Kong provided stiff competition for the group. However, with a selection that took audiences from hope and mischief to nostalgia and courage, the Choir had to work extra hard to ensure that each song was given their best.

The Jury at the competition hailed from diverse backgrounds and countries as varied as Japan, the Netherlands, Indonesia, Philippines and Vietnam; all of whom share a passion for music through composing and conducting on an international level.

Performing the multi layered 'Lift Thine Eyes', the Beatles classic 'Penny Lane', a beautifully complex version of the evergreen 'Danny Boy' and the rousing 'Seize The Day' from Newsies, was no easy task, but it was achieved with aplomb and a lot of fun.

Sanjeev Jayaratnam, the leader of the award winning Revelations ensemble and the founder of the Revelations Academy was the brainchild behind encouraging and training the 21 member strong team. "We have an extremely talented group of kids and after competing and performing in the local music scene, I felt it was time to up the stakes and give them an international platform in order to expand their horizons and discover how they will fare against other choirs just like them."

This is not the first time that the Academy has received honours abroad. The senior choir won two silver medals at the Tomohon International Choir Competition in 2010; a few of them parents of the children who took it one step further five years later.

"We had so much support and help from parents and well wishers and we would like to acknowledge their part in making this trip a success. We are so proud to bring home a Gold diploma and this is just the beginning for what this talented group of kids can achieve," Jayaratnam added.

The Choir will be performing its award winning selection on 20 June at a concert that will showcase them and the other talented students of the academy. The Academy conducts classes in Singing, Drama and Art for students from the age of four years and upwards at its fully equipped centre at 23, Terrance Avenue, Mount Lavinia.