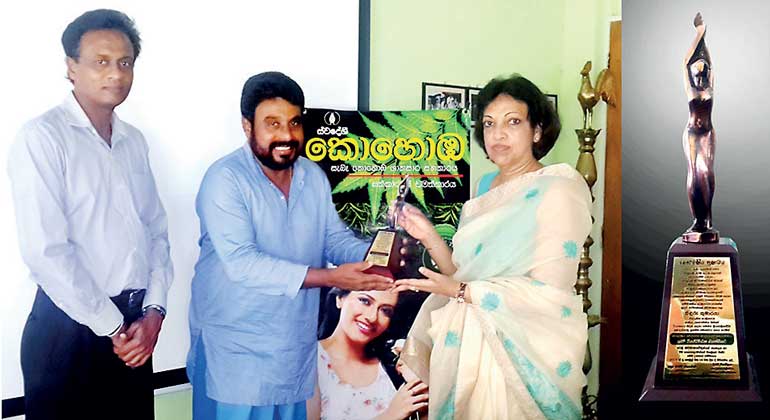 The moment when Amari Wijewardene was presented the Award of Appreciation from Tele Makers Guild by its Deputy Chairman and award winning director, Sudath Rohana, for her support in promoting artistic, high quality Sri Lankan television productions. Deepthi Wijethunga, General Secretary of Tele Makers Guild, is also present
For the invaluable contribution made in promoting quality teledrama productions, The Tele Makers Guild recently honored Ms. Amari Wijewardene, Chairperson of The Swadeshi Industrial Works PLC, with an Award of Appreciation. The award comes at a time when the Sri Lankan teledrama industry has been compromised in terms of originality of content, with the growing traction to style new teledramas based on foreign sitcoms. The support given by Ms. Wijewardene to the acclaimed directors of the Tele Makers Guild, who have come together to create good quality drama, has served to ensure that new productions still bring out the values endeared by Sri Lankan society, characterized by the originality of the local art form.

"Kinduru Kumaraya", a teledrama promoting the local traditions, was telecasted on Sri Lanka Rupavahini Corporation during the Sinhala and Tamil New Year with the complete sponsorship of Swadeshi Industries(Khomba brand), which stands testament to the company's commitment to promote local arts and culture. "Kinduru Kumaraya" also served as a platform for learning for the next generation of tele makers undergoing training with the Tele Makers Guild, through their involvement in the production of the drama, which was directed by acclaimed director Sudath Rohana.

The Award of Appreciation from the Tele Makers Guild was presented to Ms. Wijewardene by its Chairman, Mr. Anura Madhawa Jayasekara, Deputy Chairman and award winning director Mr. Sudath Rohana, General Secretary Mr. Deepthi Wijethunga, other members of the Guild and participants of training program on tele production.

In addition to the contributions made on promotion of local arts, The Swadeshi Industrial Works PLC – the makers of Khomba Herbal, Rani Sandalwood and Khomba Baby soaps – also engage in multitude of CSR programs to promote local tradition, as in the case of its flagship program "Swadeshi Khomba Aloka Puja Sathkaraya" the annual lighting of the places of worship and shrines such as the Kataragama Kiri Wehera, Ruhunu Kataragama Maha Devalaya, Sabaragamu Maha Saman Devalaya, Devundara Sri Vishnu Devalaya, Rideegama Ridee Viharaya, Dambadeniya Raja Maha Viharaya, and Keragala Rajamaha Viharaya.