The Galadari Hotel's most talked about fine dining restaurant the California Grill breaks new ground with the spellbinding performances of Colombo's most loved trio. 'Mignonne, Maxi and Suraj Trio' lightens up the California Grill every Saturday from 7 p.m. to 11 p.m. during the special food promotion 'Dance for your Supper'.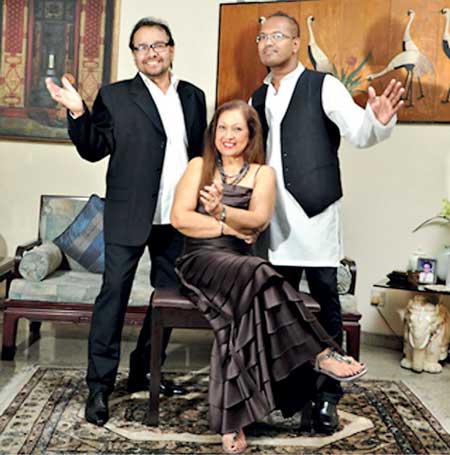 Dance for your Supper offer guests the opportunity to enjoy an exciting selection of supper choices whilst dancing to your favourite music. Mignonne Fernando was the first Sri Lankan to be signed up by EMI Records UK, and Keith Prowse Music London. Her song 'Coconut Man' also entered the finals of the World Popular Song Festival in Tokyo, following her previous songs 'Love, Don't Let Me Down' (1971) and 'Someday My Love' (1972).

Her band 'Mignonne and the Jetliners' was selected to perform at The Regent Hong Kong where the contract that was continuously extended for 16 years. Her achievements are countless throughout her career. In the year 2004 Mignonne was bestowed with the 'Zonta Woman of Achievement Award' in the category of Creative and Performing Arts. She was selected as the recipient of the 'Most Outstanding Citizens Award' in 2006. To date Mignonne continues to perform at selected events in Sri Lanka as well as abroad.

Iconic Maxi Rozairo in 1966 joined the band 'Soundwaves' and later in1970 he joined the band 'Spitfires'. Maxi enjoyed a very interesting musical career laying claim to countless opportunities to maximise his musical talents. In 1989 he teamed up with Dilup Gabadamudalige and won 'Duo of the Year' twice. In 2010 he became a vocal coach and continues to give back to the music industry in Sri Lanka from which he learned so much!

Suraj Gunewardena in2004 to 2006 joined the pop and rock band 'Anno Domini' as an acoustic guitarist cum singer performing at the World Trade Centre.

Suraj too has had a whirlwind of experiences which include becoming founder member cum bass guitarist of the band 'JAGS Quartet' and in 2012 to 2014 he was invited to play as bass guitarist for the band 'The A-Team'. In the year 2015 he teamed up with the multi-talented and internationally hailed musician and music director of 'Jetliners' fame, Mignonne Fernando as her preferred bass guitarist.

Come therefore and be engulfed by the fabulous performances of this talented trio and enjoy the best supper choices in town at the California Grill restaurant's exciting promotion 'Dance for your Supper'.