Hashini Chandrasiri a talented young artist will hold her first exhibition from Friday 26 to Sunday 28 February at the Lionel Wendt Art Gallery, with renowned artist Iromi Wijewardene gracing the event as the Chief Guest.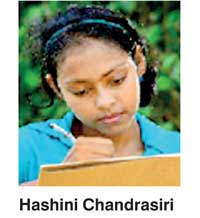 In Hashini's own words, "When I was a kid I had a beautiful dream to become a professional artist."

Like most children she had a happy childhood until 2009 when her mother died of a bone marrow illness.

Hashini too then succumbed to the same debilitating illness that her mother suffered from, as a result of which she was unable to walk.

In an attempt to overcome her grief at her mother's death and get over her loneliness and despair she turned to her art, the results of which you will see at her maiden exhibition which commences on 26 February .

"I see my mother in all my paintings," says Hashini, who has based her art on the feelings she had for her mother. She says, "I believe my art is the best result of the darkest time I ever experienced in my life."

What's more Hashini's exhibition will also see her sister Rathika, a former LTTE combatant who was abducted by Prabhakaran on her way to school, assisting her. Rathika managed to escape her abductors who then set off a landmine on her, resulting in Rathika almost losing her leg. As fate would have it, Hashini and Rathika were in hospital at the same time which resulted in Hashini's father Upali adopting Rathika and today both girls live, play and study side by side.

Hashini's father Upali is a man in a million, and one whose actions need to be emulated.

Please visit Hashini's exhibition and witness for yourself the power of love!

All proceeds from the exhibition will go towards Hashini's medical expenses.