Three awards to be given to spur local film industry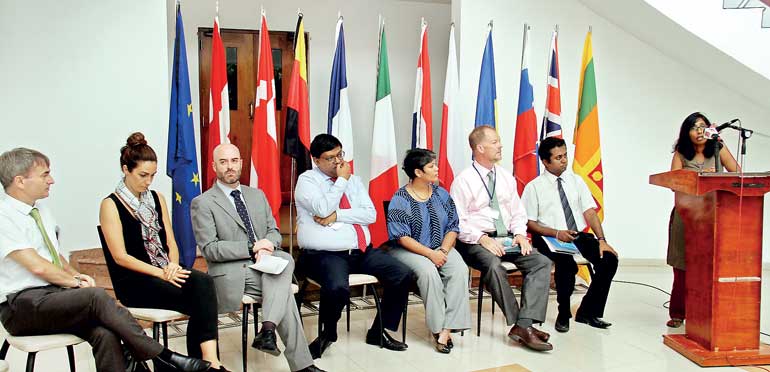 By Shiran Illanperuma

Anoma Rajakaruna, long-time curator of the annual European Film Festival (EFF), recently announced the launch of the Jaffna International Cinema Festival from 15-21 September.

The film festival is the first to be hosted in Jaffna and is organised in collaboration with Ceylon Theatres and the University of Jaffna with additional financial support from the European Union and various foreign embassies. "The event is completely not-for-profit with funding going only to cover the event's expenses," says Rajakaruna.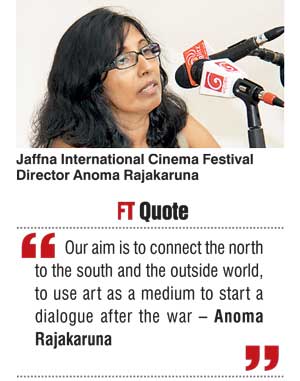 To complement the event, three competitions have been announced with awards to be given over the course of the festival. These include a Lifetime Achievement Award, a critic's award for Best Debut Feature and an audience award for Best Short Film.

Commenting on the award for Best Debut Feature, Rajakaruna said: "We want to create a platform for the younger generation."

Such an award is the first-of-its-kind to be given in Sri Lanka. Local participants will be in direct competition with foreign filmmakers, forcing them to raise their standard to an international level.

Currently the Jaffna peninsula is home to a number of young short-filmmakers, many of whom will be participating in the competition for the Best Short Film award. Rajakaruna says: "I hope they use this festival as a platform to make eventually make feature films and to take their stories out into the world."

In keeping with Jaffna's post-war cultural resurgence, a number of Tamil language films will be screened, though details are yet to be revealed. Historically, film production in Sri Lanka has been predominantly in Sinhalese, with the long-running civil war hindering production of Tamil films in the north and east.

Local Tamil-speaking audiences today have turned to India's Tamil film industry, which has come to saturate the Sri Lankan market, a fact that Rajakaruna hopes will change. "The Jaffna festival will open up doors, we can break away from Kollywood and also show that Sri Lankan cinema is more than Sinhala cinema," she said.

Despite the slack in local Sri Lankan Tamil film production, the culturally-vibrant Tamil diaspora has over the years produced a respectable body of films. Films like Lenin Sivam's 1999 have even garnered international acclaim. JIFC aims to showcase this talent too.

"We are screening about 10 diaspora films including some award-winners and two world premieres," says Rajakaruna.

Additionally, a special forum will screen three notable Sri Lankan films which contain Tamil dialog – Ponmani, Ini Avan and With You, Without You. All three of these films are made by Sinhala directors from the south – hence the title of the forum 'Conversation With the South'.

Rajakaruna states: "Our aim is to connect the north to the south and the outside world, to use art as a medium to start a dialogue after the war."

Pix by Kushan Pathiraja
---
Public Performance Board to move towards classification
EU delegates speaking at the Jaffna International Cinema Festival launch conference hinted at Sri Lanka's history of censorship in the media. "We want to bring the values of freedom of expression and speech that we treasure so much in the EU," said one delegate.

Sri Lankan arthouse cinema – and by extension the mainstream film industry – has suffered under tight regulatory measures over the past few decades.

Speaking on her own experiences in film classification European Film Festival curator Anoma Rajakaruna recalls: "As curators we've had challenges in the past where, for example, a children's film in Europe will be rated adults only in Sri Lanka."

In other cases, local films have been banned outright. Asoka Handagama's 2005 film, Aksharaya was banned due to nudity and themes of sexuality. Vithanage 1997 feature, Death on a Full Moon Day made it past the Censor Board but was allegedly banned after interference from a minister – though the film was later released after a protracted legal struggle.

More recently, Vithanage's 2012 film With You, Without You was blocked for release by the previous regime with authorities demanding the removal of scenes depicting military personnel in an unfavourable manner. However the change in Government following 8 January has allowed Vithanage to screen his film without any cuts.

Rajakaruna expressed hope that under these new social and political circumstances, such strict regulations would gradually ease. The appointment of a new Public Performance Board after the presidential elections of January is identified as a turning point.

"They are open towards getting films out on broader social issues," she said, "The very first thing they did in office was express a desire to move towards a classification system without resorting to censorship."

If true, such a move towards standardised classification would be an important step to reviving Sri Lanka's declining film industry and providing local filmmakers with room to breathe.