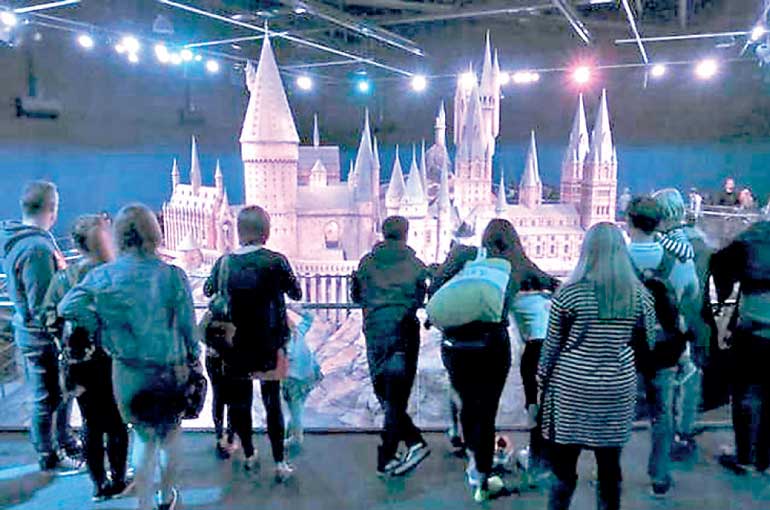 People look at a model of Hogwarts School of Witchcraft and Wizardry which is part of the Warner Bros 'The Making of Harry Potter' studio tour in Leavesham, England - Reuters
Reuters: Harry Potter is coming back – for everyone.

Nine years after publication of the last novel in the best-selling series about the boy wizard, what has been billed as the 'epic 8th Harry Potter story' will be published worldwide in July.

'Harry Potter and the Cursed Child Parts I & II', a script version of the upcoming, sold-out London play, will be published in physical book form in North America and Britain, and globally as a digital ebook. The book will read like a play rather than a narrative novel.

The play, based on an idea by author J.K. Rowling, is set 19 years after 'Harry Potter and the Deathly Hallows'. It features a grown-up Potter as an overworked employee of the Ministry of Magic and father of three children who is grappling 'with a past that refuses to stay where it belongs', US publishers Scholastic, UK publishers Little, Brown, and global digital company Pottermore said on Wednesday.

David Shelley, chief executive of Little, Brown Book Group, said the script was being published due to public demand.

"J.K. Rowling and her team have received a huge number of appeals from fans who can't be in London to see the play and who would like to read the play in book format – and so we are absolutely delighted to be able to make it available for them," Shelley said in a statement.

Potter fans squealed with delight at the news. "On behalf of all potterheads, thank you, thank you very much indeed. OMG I'm so happy," tweeted Lazi on Wednesday.

The book script will be published on 31 July, Potter's fictional birthday, and the day after the play opens in London.

The play, which stars Jamie Parker as Potter and black actress Noma Dumezweni as an adult Hermione Granger, is already sold out through January 2017. The original Hermione was played in the movies by Emma Watson, who is white.

The play opens ahead of the much-anticipated November 2016 movie version of Rowling's Potter spinoff book 'Fantastic Beasts and Where to Find Them', starring Eddie Redmayne, and the opening in April of a second Harry Potter attraction within a theme park, this time at Universal Studios in Los Angeles.

More than 450 million copies of the seven original Harry Potter books have been sold worldwide in 79 languages. The movie franchise has grossed more than $ 7 billion worldwide.