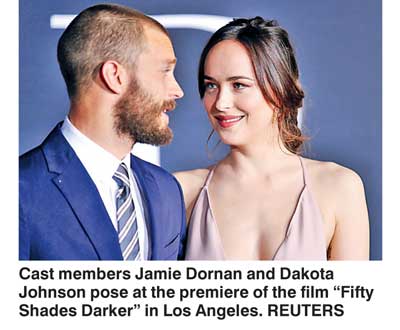 Reuters: "Fifty Shades of Grey" star Jamie Dornan said fans of the erotic box office hit could look forward to more action when the sequel, "Fifty Shades Darker", reaches theatres next week.

The Northern Irish actor and co-star Dakota Johnson reprise their sadomasochist relationship in the follow up to the 2015 hit, which made $571 million worldwide.

"We pull out all the stops," Dornan said at the world premiere of "Fifty Shades Darker" in Los Angeles on Thursday. "If you're making a sequel to anything, I think there has to be some kind of advancement on the first, you have to go a bit bigger in a lot of areas, and I don't think this film is any different."

"Fifty Shades Darker", based on the second book in the trilogy of novels by E.L. James, begins its global roll out from Feb. 8.