Chair of the jury panel Mark Tully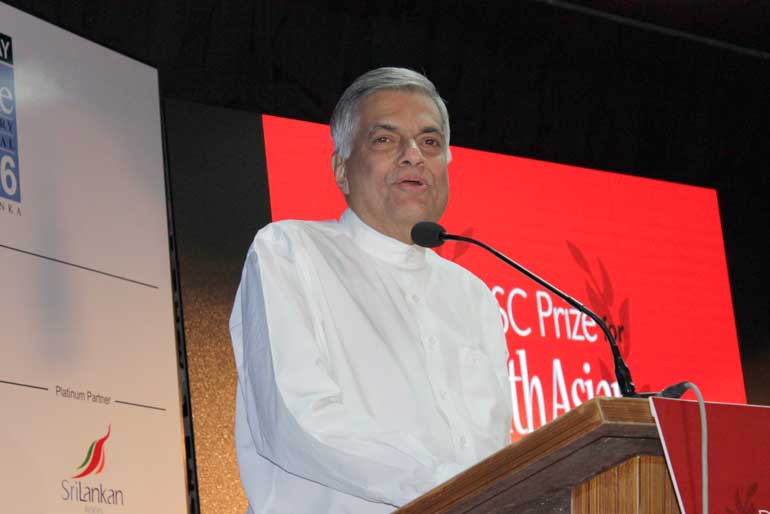 Prime Minister Ranil Wickremesinghe at the DSC Prize for SOuth Asian Literature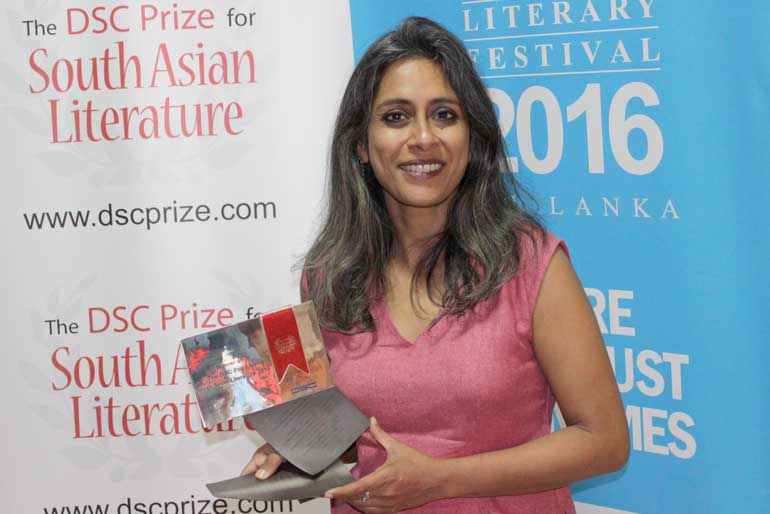 Winner of the 2015 DSC Prize for South Asian Literature Anuradha Roy
By Shiran Illanperuma

For the first time in its six-year history the ceremony for the DSC Prize for South Asian Literature was held in Sri Lanka at the Fairway Galle Literary Festival where Indian author Anuradha Roy was declared winner for her latest novel Sleeping on Jupiter.

A visibly disarmed and overjoyed Roy – who has made it into a number of award short and long lists over the years – said that she was"completely stunned" at having won the prestigious prize worth $ 50,000.

Remarking on the significance of the award Roy noted that the handsome pay cheque enabled writers like her to focus on their craft for extended periods of time rather than having to seek financial support through other professions.

In a humble victory speech the Bengali writer and publisher noted the high quality of other short listed books and said that a "much happier thing would be if everyone could win".

Judges said that Sleeping on Jupiter stood out amongst its peers for being "a very courageous book" that took on complex and often difficult themes. Roy says her experience of writing the book reflects this.

"I found it difficult to write. Some would suggest to write on a different theme but when you are obsessed with an idea you just have to go on with it," said Roy.

Roy's third novel, Sleeping on Jupiter was selected from a shortlist that included acclaimed works such as Family Life by Akhil Sharma, Hangwoman by KR Meera and translated by J Devika, The Book of Gold Leaves by MirzaWaheed, The Lives of Others by Neel Mukherjee and She Will Build Him A City by Raj Kamal Jha.

Released in April last year, Sleeping on Jupiter was greeted with positive reviews. The Guardian raved about Roy's "chiselled prose" and the book wound uplong listed for the Man Booker Prize.

Members of the Jury for the sixth DSC Prize for South Asian Literature included renowned journalist and chair of the jury panel Mark Tully, Emeritus Professor of Literature at the Open University Dennis Walder, book seller and literary coordinator Karen Allman, Senior Professor of English at the University of Colombo Neloufer de Mel and Bangaldeshi writer, translator, critic and academic Syed Manzoorul Islam.

Pix by Shiran Illanperuma
PM Ranil slams SAARC at DSC award ceremony
By Shiran Illanperuma

Prime Minister Ranil Wickremesinghe who presented the DSC Prize for South Asian Literature at the Fairway Galle Literary Festival slammed the South Asian Association for Regional Cooperation (SAARC) for not conducting similar high profile events.

The premier thanked the DSC Group-an infrastructure based corporation from India- for their efforts setting up the DSC prize and now bringing it to Sri Lanka after being based at the Jaipur Literature Festival.

Addressing the co-founder of the prize Surina Nerula, Wickremesinghe said: "I have to thank you for creating the DSC prize for South Asian Literature. It has given a global audience to our books".

At the same time Wickremesinghe expressed dissatisfaction with the works of SAARC, which was officially established in 1985 and includes in its charter the objective of accelerating cultural development in the region.

"We talk of the SAARC. What on earth is the SAARC doing? They have not done anything compared to what you have done," charged Wickremesinghe.

The premier continued to praise private companies like DSC Group and expatriates like Galle Literary Festival Founder Geoffrey Dobbs for their contributionsto the arts and pledged to get his Foreign Minister to involve SAARC governments in more cultural affairs.

"What you have done on your own, let the SAARC governments now continue," he said.