By Shiran Illanperuma

When Film Director Asoka Handagama and a few of his contemporaries decided to host an International Film Festival in Colombo, little did they know that it would be a roaring success – so much so that the festival theme "You too can have a seat" was rendered invalid by the throngs of people queuing outside of packed theatres.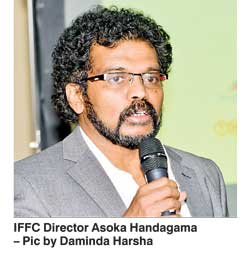 One year later, Festival Director Handagama and his team are working furiously to maintain momentum and surpass themselves with this year's iteration of the festival. Confident that audiences will once again line up to fill theatres to the brim, the slogan this year is 'Fulfil your soul' – reflecting Handagama's career mission of cultivating a sophisticated film culture on the island.

While IFFC aspires to be one of the next big film festivals in the world, and an audience puller in the South Asia region, the show is still very much in its infancy. Entry to the event is free despite Handagama's steep estimate of about Rs. 40-50 million spent on financing the event – most of which is rendered through services such as cinema screenings.

Handagama acknowledges that such a practice is far from sustainable, with sponsor interest dictated by the whims of the market, the festival, if it is to thrive, would soon need to transition to a profitable ticket-selling model. However the Festival Director says that with the festival still finding its footing, the primary aim is to groom local film audiences to the point where they would pay to see challenging films.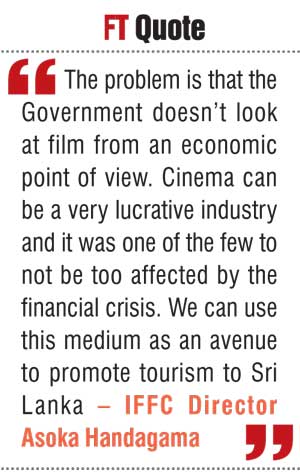 In an effort to surpass the previous year, organisational costs have shot up by around Rs. 10 m. Luckily for Handagama, the festival has retained its major private sector sponsors while luring in public sector support. "We got huge backing from Government institutions such as the National Film Corporation, Sri Lanka Tourism Bureau and SriLankan Airlines," he says.

The rocky relationship between the film industry and the State has markedly improved since the ushering in of the 'Yahapalanaya' era. This year alone the Public Performance Board has not only given Prasanna Vithanage's controversial film 'With You, Without You' the all clear, but has also given Handagama and his team blanket approval to select and screen films at their discretion.

Yet, despite the seeming amends being made by the State towards filmmakers, the fatigued Handagama expresses dissatisfaction with the State's attitude towards film and the arts. "We tried to convince the Government to start something like this, but it never happened. We are only film directors, there should be an independent body of professionals organising this event," he says.

Handagama, who has a professional background in finance, takes to an economic argument. "The problem is that the Government doesn't look at film from an economic point of view. Cinema can be a very lucrative industry and it was one of the few to not be too affected by the financial crisis. We can use this medium as an avenue to promote tourism to Sri Lanka."

But despite appeals to the State to seriously invest in the film industry, the controversial and rebellious director is typically irreverent. He frankly states: "We don't have any intention to invite so-called politicians to the festival; they can come if they want, but they will receive no special attention. This is politically independent."

Screening Sri Lanka

This year's festival is set to showcase six local films, under a selection titled 'Mosaic of Sri Lankan New Cinema'. In a post-war cinematic context that has seen Tamil in films such as 'Him, Here After' and 'With You, Without You,' all culminating in the recent Jaffna International Cinema Festival, it seems strange that five out of six films are entirely in Sinhala – the other being French.

"The problem is not from us. There are simply no big Tamil feature films to select," defends Handagama. With the selection process restricting submissions to productions from the last two years, the IFFC team had only found one Tamil feature film, whose creators unfortunately did not submit in time for selection. Hence the lack of representation for Sri Lankan Tamil cinema.

Interestingly, the films also lack subtitles in Tamil, despite including English. In this instance Handagama cites the significant resources needed to develop subtitles. "It's a huge technical challenge, even to put Sinhala subtitles. We need to get screeners in early but cost is the main issue. But in the near future we do need to include Tamil subtitles," he says.

Where Tamil films can be found however is in the short film section of the festival. Handagama and other film industry professionals have noted the burgeoning short film culture in the war-affected north and east of the island. Indeed, just like with the recent Jaffna festival, the hope is that these young filmmakers will eventually make their way to serious feature films.

A cinephile at heart, Handagama recalls his youth when parallel cinema from India and alternative arthouse features from Europe were freely available for viewing in the island's commercial theatres. Ruing the saturation of blockbusters in local theatres, Handgama hopes that festivals like IFFC will lead to national screenings of more local and independent films.

"These films are not light viewing; they are challenging but deserve a wider audience for that reason. We want to test and push the audience's way of looking at film," he says. Despite the island being overshadowed by the filmmaking juggernaut that is India, Handagama argues that we do indeed have a tradition of high quality cinema that needs to be brought to the surface.

"Lester James Peiris introduced an alternate cinema to the island in 1956 and was nominated for the Palme D'Or at Cannes. Then in the 1970s Dharmasena Pathiraja ushered a second generation. Towards the 1990s Prasanna Vithanage, myself and others started a new wave. Today I can see young filmmakers beginning the next wave of Sri Lankan cinema."