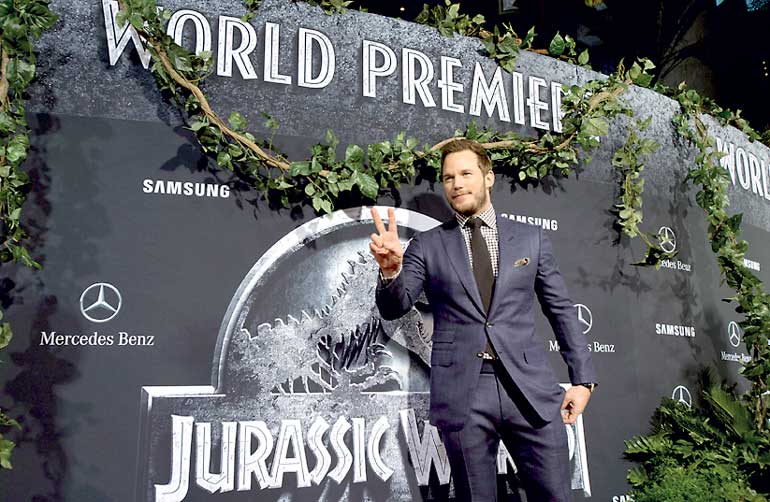 Reuters: From Marvel's 'Guardians of the Galaxy' to 'The Lego Movie' and now 'Jurassic World', Chris Pratt is fast becoming Hollywood's go-to franchise leading man.

Sitting on a sunny bench at Universal Studios, Pratt, 35, reflected on his whirlwind two-year rise to stardom and his transformation from TV comedy actor to movie stud.

Below are excerpts of his interview with Reuters:


Q: You played goofball Andy Dwyer on NBC's 'Parks and Recreation' for seven seasons, shot to movie stardom as Peter Quill in 'Guardians of the Galaxy', and now you're playing Owen Grady in 'Jurassic World'. Which is most like you?

A: All three of those characters are me. I think we were all born the same person, but there's just a different set of circumstances that led them to the moment that you meet them.

I think I am exactly who Owen is if I were to be a combat veteran who had a love for animals growing up, and joins the Navy and trained dolphins and saw people get killed, saw his animals get killed, then ran off to this island.

I'm probably the least like Andy Dwyer. Andy's really the most cartoonish of them, but he's certainly a collection of the clown I've been working on my whole life.


Q: What's the advantage of you hitting your career stride in your thirties rather than your twenties?

A: I gained certain perspectives that are going to allow me to stay sane through this that I might not have had if I was in my early twenties. There are some people who get stardom in their late teens or early twenties, and they do fine with it. I don't think I would have been one of those people. I think there are a lot of lessons I needed to learn and a lot of mistakes I needed to make outside of the public eye in order for me to survive in this.


Q: How do you feel about being objectified for your physicality?

A: I love that a man is being asked this question. It needs to be asked. Who would have thought this is what equality would look like? (laughs)

(Women) have had to deal with it for a very long time. I know that I have to be very careful and measured in my answer to this because it's part of a great conversation that's happening right now.

I'm happy to be working. I've lived a life where I've struggled, rode around in my car on empty, I've starved, so just getting work and having access to great material and filmmakers now is a great thing. If it's due in part to physical transformation, I think that's just a great reality check for the world that we live in, and rather than do anything to try and change it, I'm just trying to do what I can to take advantage of it.