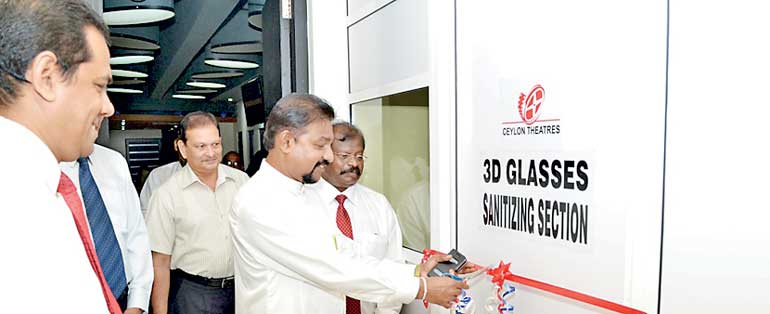 Opening of the Sanitisation Centre by Deputy Mayor of Colombo U.L. Titus Perera; also seen (from left): Ceylon Theatres Chief Operating Officer Pravin David, General Manager Mahendra De Alwis and Colombo Municipal Council Chief Medical Officer of Health Dr. R.L. de S. Wijayamuni
Ceylon Theatres, a member of CT Holdings Group and the renowned provider of quality cinematic experience to Sri Lankans is proud to be the innovator of the newest technology in providing hygiene protected 3D Glasses to its movie-goers. The new 'Sanitisation Centre launched on 23 June at the Majestic City complex has been designed to protect 3D movie viewers from potential health hazards and possible odours from previous handling.

The opening ceremony was graced by the Deputy Mayor of Colombo U.L. Titus Perera. Other distinguished guests at the opening were Colombo Municipal Council Chief Medical Officer of Health Dr. R.L de S. Wijayamuni, Ceylon Theatres PLC Executive Director Sanjay Niles, General Manager Mahendra De Alwis and Chief Operating Officer Pravin David. The system will provide protection against such odours and designed to be compatible with other treatment technologies to prevent any health hazard – offering optimal comfort and protection.

At the event, commenting on the benefits of opening such a centre, Pravin David said, "The sanitisation centre forms a part of our increasing focus and commitment as a Group to provide safe and healthy environments for our consumers. Our theatres are patronised by a wide spectrum of clientele from a variety of socio-income groups and it's important that they are able to walk into our theatres with confidence with their families.

He added, "This is a trust that Ceylon Theatres as t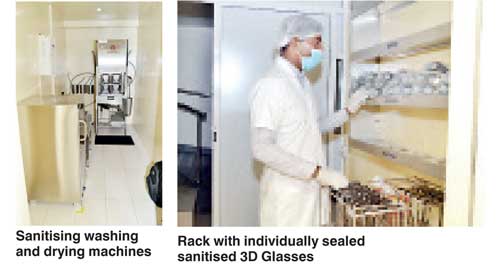 he pioneer in public film exhibition in Sri Lanka holds as its greatest legacy. As we evolve and expand as a Group the trust associated with our brands would continue to be our foremost strength and we intend to invest in it. The sanitisation centre is another step in that direction where the process will provide 3D Glasses that are both sanitised and sealed individually for ultimate eye protection."

The 3D glasses sanitisation process is immersed in a dishwasher-like machine in which sanitising chemicals and appropriate detergent are added to the washing process. Following this process, they are placed in a dryer cabinet and then transferred to the packing section. Each pair of 3D glasses is checked i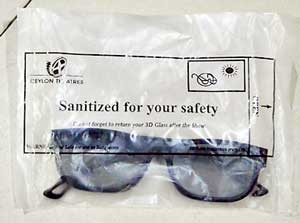 ndividually by a quality assurance team, and seal-packed for use.

CMC Chief Medical Officer of Health Dr. R.L de S. Wijayamuni stated, "It is commendable that Ceylon Theatres has initiated the sanitisation process of 3D glasses. This ensures public health safety against communicable diseases which could arise from the use of unhygienic glasses. The equipment installed and purification process adopted at the centre will provide completely safe and hygienic glasses which meet with the CMC's health requirements."

Ceylon Theatres Ltd. is engaged in operating cinemas and multiplexes which include the 'Regal', 'Majestic' and the 'Empire' in Colombo, 'Regal – Kandy', 'Regal – Negombo' as well as 'Majestic' multiplex in Jaffna. The Group's association with the national cinema industry surpasses 75 years with the making of the first national production and thereon producing landmark motion pictures that have won international acclaim.