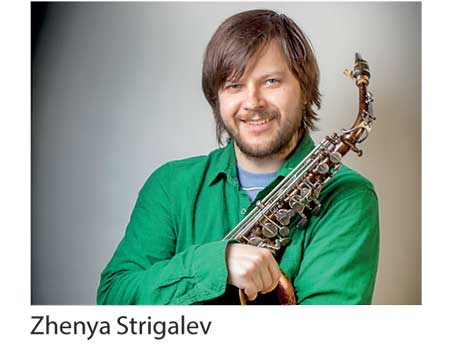 In line with The Sooriya Village vision of bridging the space between true artistry and the general public, they bring you the famed London based Russian jazz musician Zhenya Strigalev who will be playing live at The Sooriya Village on 16 September from 7:30 p.m. onwards.

Zhenya is considered a maverick in jazz for his unique style and ingenuity in his music, his willingness to bend the rules. His time in Colombo will be spent teaching and playing, sharing his magic with the rest of us. All jazz and music enthusiasts are welcome!

Zhenya Strigalev, at the age of 17, won 'The Best Saxophonist' award in a popular jazz competition in St. Petersburg. He then started performing consistently at many European, Russian and UK festivals. He graduated from The Royal Academy of Music and started spending more and more time between the London and New York jazz scenes. He has worked with some of today's most forward thinking musicians including Mat Garrison, Chris 'Daddy' Dave, William Parker, Hamid Drake, Joseph 'Foley' McCreary from Miles Davis fame, Alex Sipiagin, Taylow Eigsti, etc. He has performed extensively in Germany, France, Spain, Italy, Sweden, Russia, Czech Republic, Austria, Britain, India, Switzerland, Peru, and Chile.

Zhenya arrived in London with only his saxophone and nothing much else, least of all money. His work ethic and talent, his tenacity propelled him to where he is today and is now considered one of the most exciting young jazz musicians in London. He has six albums under his name and he seems to have reached a new level of artistic maturity with his new album Never Group.

Zhenya will play from his own creation of instrument called the Alto Box where he makes unique jazzy sounds from a saxophone built in what appears to be a box.

Come be wowed on the night of 16th September, as the Sun goes down and fairy lights twinkle while smooth jazz is heard through The Sooriya Village gardens.

Tickets are priced Rs. 1,000 for adults and Rs. 750 for children aged below 16. Tickets can be purchased from The Sooriya Village store on 10 and 11 September between 10 a.m. and 6 p.m. or at the gate on 16 September. For more information, please write to [email protected]

The Sooriya Village, located in the heart of Colombo at No. 49 Skelton Road Colombo 5, provides amenities such as rehearsal suits, a top gear recording studio, library and research services, a tech based lecture room, a restaurant with mouth-watering delights, dorms, tea/coffee/juice lounge, performance spaces and plenty of hang out area. Sooriya's vision is to provide a facility for artists and art enthusiasts to nurture and explore the culture of arts delivering the best possible service and experience. The Sooriya Village welcomes all you vibrant art lovers for a refreshing evening away from the daily hustle and bustle to enjoy Art in The Village.