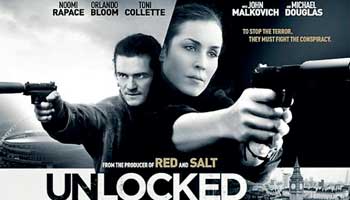 'Unlocked' is a 2017 American thriller film directed by Michael Apted and written by Peter O'Brien. The film stars Noomi Rapace, Orlando Bloom, Michael Douglas, John Malkovich and Toni Collette.

Ever since the Bourne trilogy came along and jacked up the spy-thriller genre, many films have tried to recapture its sweaty-palmed magic. But none of them, including two more films with 'Bourne' in the title, have quite reached those high standards. The latest contender, 'Unlocked,' accelerates the pulse of the viewer with its moves with an impressive cast of actors.

After failing to apprehend the terrorist behind a Paris attack that claimed dozens of lives, CIA agent Alice Racine is forced to live in London as a caseworker. Her mentor unexpectedly calls her back into action when the CIA discovers that another attack is imminent. Alice soon learns that the classified information she's uncovered has been compromised. Running for her life, she turns to a former soldier to help her prevent a lethal biological attack on the citizens of London.

'Unlocked' screens at Majestic Cineplex 10.15 1.15 4.15 7.15 Fri/Sat 10.15 pm and Empire Cineplex 1.30 4.30 7.30 Fri/Sat 10.30 pm Sat/Sun 10.30 am.