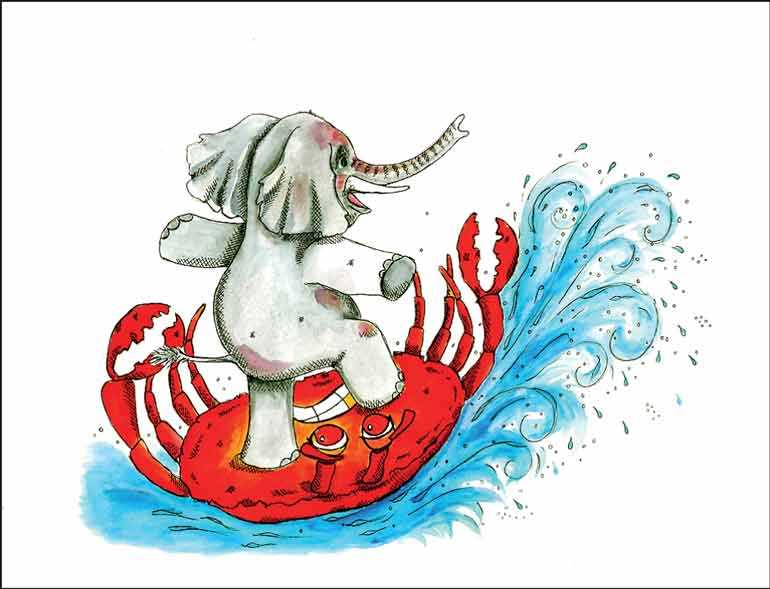 Riding a wave Donald Trunk and The Curse Of Crabzilla
---
What do a top art director; top hotel and travels chairman, top white tea plantation manager and top photojournalist have in common? They are all coming together in one of the top hotels in Galle, Jetwing Lighthouse with top new children's book character, Donald Trunk, Sri Lanka's Swimming Elephant for the launch of his latest adventure and to tell us the secrets to writing a bestselling book.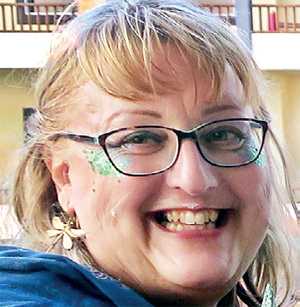 Janet Anderton illustrator of the book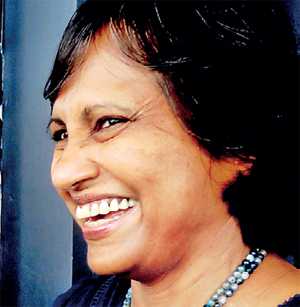 Shiromal Cooray chairing the event, Chairman of Jetwing Travels & Hotels will be chairing the talk on how to write your first book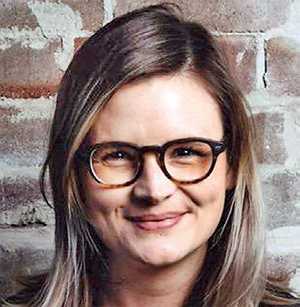 Monica Lawrie an awardwinning book designer turned digital nomad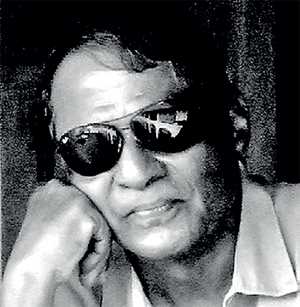 Herman Gunaratne author of five highly successful books
Last year Donald made his debut at the Fairway Galle Literary Festival Art Trail in an incredible art exhibition of illustrations by Donald Trunk book artist Janet Anderton, who brilliantly captures the adventures of this fascinating character.

He is a fictional personality based on a real life news story about three run-away swimming elephants, who swam 10 miles out to sea before being brought back by the Sri Lankan Navy. Much to the delight of Trunk fans who loved the theatrical performance of the book in English and Sinhalese, Donald returns in fine fashion, surfing his way towards being a social media celebrity on Tusk Book, delighting kids around the world with his new trunk selfie skills, while teaching them a thing or two about Sri Lanka's amazing history.

Like at the launch of the first book, 'Donald Trunk and The Curse Of Crabzilla' takes us into a fascinating world of wonderful wildlife characters, like the bandit crab that gets turned into Crabzilla by accident, the wise Jiminy cricket-like butterfly, Natasha, a cheeky monkey, and Donald Trunk himself.

This year's 2019 book launch will be an even more special event, with the second children's book in the series of eight, featuring more characters doing more fascinating things, entertaining both adults and children in various glorious rooms in the Jetwing Lighthouse, a flagship hotel among Sri Lanka's Premium range of hotels. There will be no better way to start the New Year off than with a magical children's story about Sri Lanka's most iconic animal, the elephant.

Monica Lawrie, astronomically talented Art Director; Shiromal Cooray, Jetwing's Chairman and Managing Director; Juliet Coombe, author of the Donald Trunk book series; and Herman Gunaratne, Manager of the best white tea plantation in Sri Lanka and famous author of five top selling books, will all be converging, like stars coming into alignment, for this great launch and will be giving audiences the benefit of their significant expertise and experience in producing 'the book you want to write if only you knew how'.

So, do join them for a fascinating behind-the- scenes presentation, addressing all of your unanswered questions. After all everyone has his or her own unique tale to tell; it's just unearthing that story line and finding what you want your message to be.

But where do you start? What should inspire you? How can you become a good writer? And then how do you design it so it is eye catching and sells? Monica Lawrie will give us an international perspective after a decade of publishing in Australia and Herman Gunaratne will reveal the brutal realities of being a writer in Sri Lanka, with a global following.

After the talk, Juliet Coombe will launch her book over tea and a very special elephant cake mapping Trunks big trip across the world, one of many splendid illustrations from the new book 'Donald Trunk & The Curse of Crabzilla'.

In a brief reading, we will learn that Donald Trunk, Sri Lanka's Swimming elephant is at it again; swimming back to Sri Lanka from Nicobar and then setting off in search of the mythical elephant graveyard treasure in the highlands of Sri Lanka, after doing back breaking work rebuilding the ancient tanks of the Second Kingdom. Why did he leave 'paradise' on Great Nicobar Island, home to endless miles of breathtakingly beautiful beaches and a phenomenal protected biosphere of wonderful wildlife creations?

One of these extraordinary creations is the peculiar robber crab, a species that doesn't much like water, loves climbing trees to get coconuts and is an unrepentant thief of silver, and all things shiny, from people's houses, into which he breaks, enters and nonchalantly helps himself, as if it were the most natural thing in the world. This robber crab turns into a monster after Donald has an accident in a secret cave laboratory and becomes obsessed with getting Donald's tusks to add to his treasure collection. He spends the rest of the book in hot pursuit of Donald, like the terminator, in some hilarious circumstances.

In this new episode, Donald Trunk is many things; a dreamer, an idealist, a one-elephant expeditionary force and, during the course of the story, ends up trying to be the redeemer of his ancestors. Full of hilarious twists and turns with him pretending to be an Italian fountain to escape being captured by the police, not fitting into a passport booth to get his picture taken and discovering to his disgust that Jumbo jets do not carry elephants. The book is a collection of events and characters that revolve around four different cultures on two continents and is highly entertaining for children and those who enjoy a great story.

During the talks, the children will be entertained by the gifted hotel chefs who will teach them how to make incredible animal shapes out of food and several other exciting artistic activities, which will take place by the reflecting pool of the hotel.

So come along and join this action packed afternoon from 3 to 5 p.m. at the Jetwing Lighthouse, where they are aiming to assemble the largest elephant gathering in the world, in the form of artistic pieces brought along by children or created on the day, depicting elephants in their myriad of different forms. The most amazing artistic pieces will win prizes and the overall winner will go with their parents on a two day safari, where they can see real elephants and one or two of the other characters depicted in the book.

Ticket required for talk, tea and 'Donald Trunk and The Curse of Crabzilla' book launch: Wednesday 16 January 2019 in your diaries 3-5 p.m. Jetwing Lighthouse. Ticketed event Rs. 2,000 per adult (1 child free).

Contact Louisa Greenish to book tickets: (+94) 0704 314050 or email louisagreenish@hotmail.co.uk, or book directly with Saduni Punchihewa at Jetwing Lighthouse, Tel: +94770 066371.