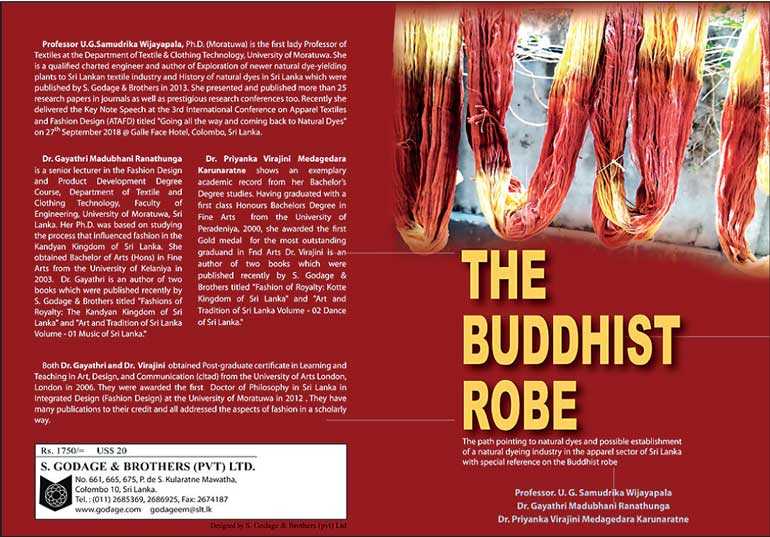 ---
Book review
The path pointing to natural dyes and possible establishment of a natural dyeing industry in the apparel sector of Sri Lanka
By Professor Ajith De Alwis

The book 'The Buddhist Robe' is an exciting read, taking the reader through a journey of an ancient practice into the current days, which has survived to-date in Sri Lanka. The book is a result of a partnership of contributors of engineering and arts and design – an interesting combination, which should result in an interesting output and I certainly can vouch for that creative output is present.



It is indeed interesting to read the versatile nature of the Buddhist monastic robe, the possibility of seat-spread to a wind break. No wonder the robe is taken as an excellent example for resource cascading by many an author who indicates the relevance of the concept to a sustainable society.

Authors' comment on that this dress style perhaps as the oldest style of dress still in fashion after 2,500 years in this era of fast fashion is quite interesting. I wish the authors gave a more definitive statement on that by spending a little bit more time before publishing.

Yet the title of the book hides perhaps an interesting inner story of greening the textile industry. There is an addition to the title in much more small print – the path pointing to natural dyes and possible establishment of a natural dyeing industry in the apparel sector of Sri Lanka with special reference on the Buddhist robe – which articulate an important concept.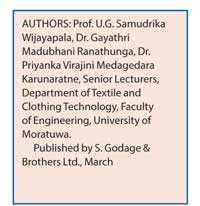 Dyes add colour and colour of all things perhaps attract the textile to the user. As such significant quality parameters are involved today when dyes are applied and their efficiency is assessed. The textile and apparel industry witnessed the rapid transformation to synthetics upon their discovery but with time the environmental issues did become apparent.

How we are to address this emerging problem is what the book is tackling in an innovative manner. Going back to nature – the Buddhist robe never left nature and 2,500 years later still the practice is followed – strengthened by tools of today there is an opportunity for an eco-industry.

Here is the coupling of the inner story to the primary title of the book. The Buddhist robe introduces to the reader the sustainability aspect of a robe of Buddhist monk. Taking that lesson the reader is sensitised to try over multitude of dyes and colours coming from flowers, roots, wood, bark and stem etc. for a brand new industry for Sri Lanka.

As the contents span from arts to science there is something for everybody in this book. It is a book that must be in anyone's Sri Lanka collection. It has more in the sense that an economic planner too can learn on an approach that the world is crying out today.

The book is very well illustrated on both the past and the modern aspects covered in the text. Especially valuable to the reader would be the illustrations on the robe and its technicalities. Illustrations on the robe's journey through times are a story in itself. The extensive bibliography adds value.

I congratulate the three authors for coming together for an interesting and a useful publication. However, please just do not stop at the 90th plant – turmeric – go on. Remember we are in a biodiversity hotspot.

(The writer is attached to the Department of Chemical and Process Engineering at the University of Moratuwa Project Director, Coordinating Secretariat for Science Technology and Innovation (COSTI) at the Ministry of Science Technology and Research.)