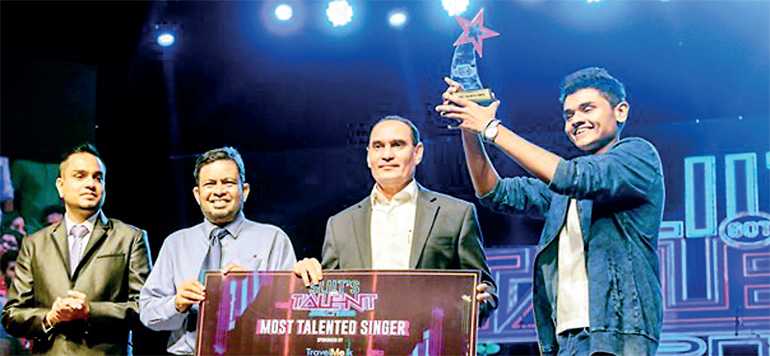 The winner of the Most Talented Singer competition was Isindu Ravin
---
The much-awaited annual 'SLIIT's Got Talent 2019' gala pageant, organised by the student community of the Faculty of Engineering of the Sri Lanka Institute of Information Technology, concluded at the Nelum Pokuna Theatre recently.

Held on a scale similar to many popular local reality talent competitions, this year's SLIIT's Got Talent 2019 was a show-stopper and demonstrated students' artistic flair.

SLIIT's Got Talent is held with the objective of showcasing the rare unearthed talent within the SLIIT student community. The annual event is a grand spectacle on the institute's social calendar and eagerly anticipated by the entire SLIIT fraternity. It provides an ideal platform for students to demonstrate their true talent.

At this year's event, the winner of the Most Talented Singer title was Isindu Ravin, with Yasodha Medegedra finishing in second place and Hasanthi Wijesunara coming third.

In the Most Talented Dancers category, first place went to Sahasra, with Nruthya finishing second and Rebellionz emerging third.

The SLIIT community also voted for the Most Popular Singer and Most Popular Dancers. Based on the accumulated votes, in the Most Popular Singer category, Hasanthi Wijesunara came first, Thushen Artigala clinched second position and Nuran Angelo was third.

For the Most Popular Dancers, the highest number of votes was received by the group Nruthya while Sahasra and Rebellionz finished second and third respectively.

"Talent is a wide variety of things and we wanted to provide an opportunity for students to share their talent and skills with the rest of the SLIIT community. SLIIT's Got Talent is all about finding talent, managing talent and bringing out the best in our students. The participating students not only showcase their talents and skills but compete for a chance to win valuable prizes. In addition, SLIIT's Got Talent helps to improve the soft skills of the students who organise an event of this magnitude," noted SLIIT Engineering Faculty Dean Prof. Saman Thilaksiri.

"Through the SLIIT Faculty of Engineering, we aim to produce employable graduates who meet the demands of the industry. We have prepared our curricula according to the Outcome-Based Education (OBE) system, with industry inputs to meet their requirements. In that process, we have identified the importance of developing the soft skills of our students in participating and organising extracurricular events such as SLIIT's Got Talent."

The main sponsors and supporters of the event are International Scholar Education Services, Bank of Ceylon, Dhammika Tex, Softlogic Life, the Asian Group, Zillione Technologies and St. Anthoney's Chicken.

Nruthya clinching first place in the Most Popular Dancers contest
---