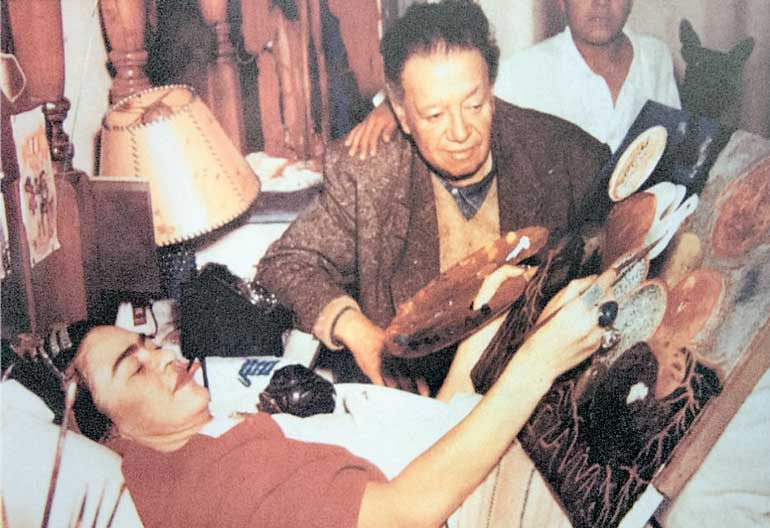 'A smile in the middle of the way' – an exhibition showcasing the lives of Mexican artists Diego Rivera and Frida Kahlo, organized by the Mexican Consulate on behalf of the Mexican Embassy, will be held from 1 to 3 September at the Faculty of Visual & Performing Arts, Horton Place, Colombo 07.

The exhibition will feature portraits of two of Mexico's most famous twentieth century artists, Diego Rivera and Frida Kahlo, providing an intimate window into a passionate personal relationship that led to the creation of unique and enduring pieces of art that have fascinated patrons of art for generations.

Diego Rivera became a legend in his native country for his vibrant murals while Frida Kahlo chose to become a painter after a car crash derailed her dream of becoming a doctor.

Rivera was well known for his murals including the controversial Dreams of a Sunday in the Alameda and numerous other works which drew upon his experience living in revolution-era Mexico and infused with a native style based on large, simplified figures and boldly vivid colour palettes inspired by an Aztec influence.

Popular for her self-portraits, Frida was inspired by Mexican popular culture and she employed a naïve folk art style to explore questions of identity, postcolonialism, gender, class, and race in Mexican society. Her work is believed to be a reflection of her physical pain and emotional turmoil of her marriage to Rivera whom she divorced and eventually remarried.

'A smile in the middle of the way' was presented for the first time at "Casa Estudio Diego Rivera and Frida Kahlo Museum" in Mexico City in 2002 and later around the world.

This collection features images captured by prominent photographers such as Guillermo Kahlo, Peter Jules, Gullimero Zamora, Nickolas Muray, Edwoard Weston and Manuwl Alvarez.

The exhibition will be open on September 1st from 1.00pm to 8.00pm, 2nd from 10.00am to 8.00pm and on 3rd from 10.00am to 5.00pm.