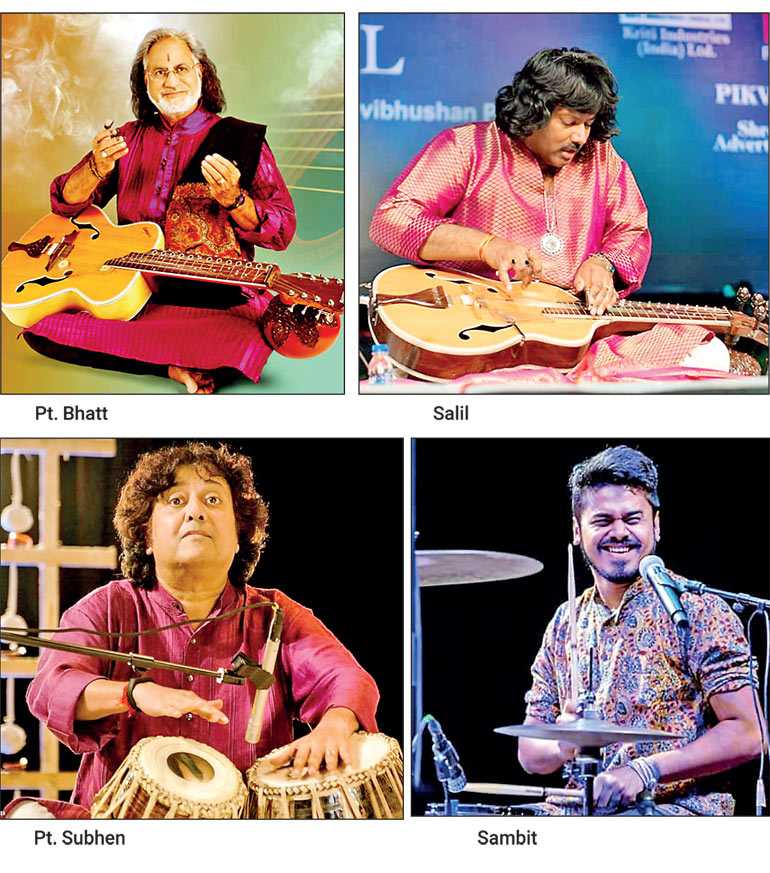 ---
To celebrate the 71st Republic Day of India the High Commission of India is organising a special cultural event 'Divine Quartet' – a musical evening on Saturday, 25 January, at the Bandaranaike Memorial International Convention Hall at 6:30 p.m.

'Divine Quartet' features outstanding musicians from India – the legendary Grammy Winner Pandit Vishwa Mohan Bhatt, the eminent Mohan Veena Maestro and Grammy nominated Pandit Subhen Chatterjee, the distinguished Tabla Maestro. They would be accompanied by Maestro Shri Salil Bhatt and Maestro Shri Sambit Chatterjee.

Pt. Vishwa Mohan Bhatt is the foremost disciple of Bharat Ratna Pandit Ravi Shankar and belongs to the elite body of musicians who trace their origin to Tansen, who was one of the navratnas (nine gems) in the court of Mughal emperor Akbar (1502 AD-1605 AD) and Swami Haridas. He is acclaimed for blending the western Hawaiian guitar with techniques of Sitar, Sarod and Veena, and created an altogether new instrument, which is now globally famous as the 'Mohan Veena'.

Pt. Subhen Chatterjee is a percussionist and tabla player of international acclaim. He was nominated for a Grammy award for his album 'Artistry' in 2002.

Admission to the event is free and by invitation only. Limited passes are available at Swami Vivekananda Cultural Centre (Indian Cultural Centre). To collect the passes, kindly bring your national identity cards/passports.