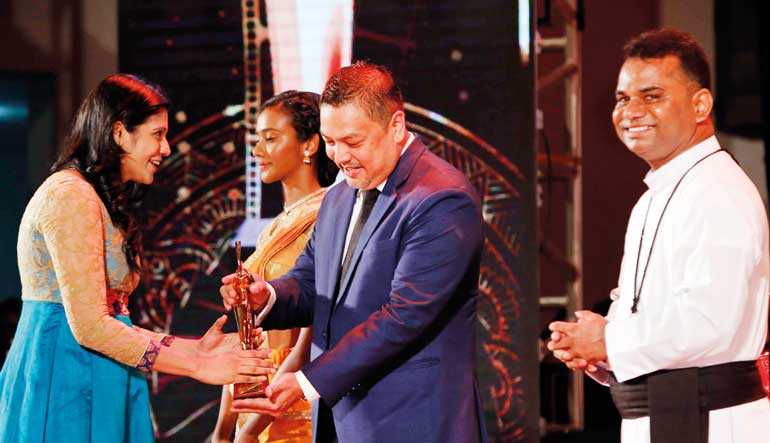 Ceylon Biscuits Group Director Rasith Wickramasinghapresenting the 'Best Teledrama Actress' award to KalaniDodanthenna
---
Munchee was the proud sponsor of the 42ndSIGNIS Salutation Awards which washeld at the BMICH recently where numerous awards were presented to Sri Lankantelevision and cinema artistes in recognition of their exemplary contribution to the respective fields.

The flagship brand of Ceylon Biscuits Ltd., Munchee supported this event with the intention offostering the local arts and culture which is an integral part of their corporate social responsibility platform. This event was organised by the Sri Lanka Catholic Cinema Parshadaya, the local branch of World Catholic Organisation for Communication.

The 2019 SIGNIS Sri Lanka Awards Ceremony was graced by the SIGNIS International Secretary General Ricardo Yáñez and Bishop of Pasig, Philippines Rev. Dr. Mylo Vergara along with a panel of delegates from European countries and other local dignitaries.

"It was truly a privilege and an honour to be a partner at the SIGNIS awards this year. We at CBL are very keen on working towards restoring peace and harmony in our beautiful nation and sponsoring SIGNIS was an apt step taken in that direction. Upgrading the standards of local cinema and television will help us to move forward as a nation by adding value to the content that is viewed by our future generations. We believe that each one of us has a responsibility towards this task," commented Ceylon Biscuits Group Director Rasith Wickramasingha.

Based on the theme of 'Montage of Humanity' this year'sSIGNIS awards focused on bringing all Sri Lankans together with theaim ofcreating peace and harmony whilstuniting and healing distressed hearts using the media platform of television and cinema. SIGNIS is known for decades of recognising, motivating, supporting and felicitating diverse categories in cinema and television with the main purpose of enhancing the quality of local cinema and television productions.

SIGNIS Sri Lanka President and Catholic Church Sri Lanka Media Spokesman Rev. Fr. Lal Pushpadewa Fernando stated: "We are very thankful to CBL group for the magnanimous support extended towards the SIGNIS Salutation Awards Ceremony. Through SIGNIS and what it stands for, we will be focusing on a much needed service to uplift and develop the Telecine industry. As a nation we faced a disastrous act of violence on Easter Sunday 21 April claiming innocent lives and injuring many others. In light of this turmoil we are committed to foster peace and unity amongst all Sri Lankans."

'Gharasarapa' and 'Kumbiyo' emerged as the best film and best teledrama. Veteran actress Sriyani Amarasena received the SIGNIS Lifetime Achievement Award.

Jayantha Chandrasiri received the award for the best director and best script for 'Gharasarapa' while the film's producer Arjuna Kamalanath received the best film award. Thumindu Dodanthenna and his wife Kalani walked away with awards for best teledrama actor (Kumbiyo) and teledrama actress (Sahodaraya).

Alston Koch and Anoma Janadari were awarded for best film actor (Mathew) and best film actress (DavenaVihagun) respectively whilst Samanalee Fonseka received the award for the best supporting actress.

The CBL Group continuously focuses and works with dedication to uplift the lives of the many communities in the country through a wide scope of comprehensive CSR initiatives which has earned them much recognition and respect.