At 7 p.m. on 26 September, one of the great violinists of the world today, Midori, will perform at the Lionel Wendt in a gala violin and piano concert, the performance to include works by Brahms, Debussy and Fauré. Collaborating on piano will be Ieva Jokubaviciute.

Midori has a unique career that has transcended traditional boundaries through her relentless drive to explore and build connections between music and the human experience. A leading concert violinist for over 30 years, Midori regularly transfixes audiences around the globe, and has performed with all major orchestras and conductors.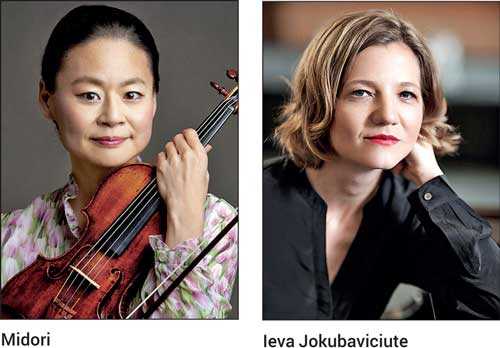 Her career began at the age of 11 with an invitation by maestro Zubin Mehta to perform with the New York Philharmonic. The standing ovation that followed her debut spurred her to pursue a major musical career at the highest level. Midori plays the priceless 1734 Guarnerius del Gesu 'ex-Huberman'.

Ieva Jokubaviciute is a Lithuanian pianist of 'commanding technique, refined temperament and persuasive insight' (New York Times). She has performed on several major stages around the world and has earned degrees from the Curtis Institute of Music and from the Mannes College of Music. She began her collaboration with Midori with recitals in Columbia, Peru, Mexico, Japan, Canada and throughout Europe. It is a matter of considerable pride, and exemplary of its collective passion that, in addition to their regular schedule of public appearances, the Chamber Music Society of Colombo (CMSC) also provides one of the most extensive dedicated education and awareness programs offered by any Sri Lankan classical-music organisation. Through its Education Fund, the CMSC has now donated more than 5,000 tickets to students from diverse backgrounds to attend high-quality live performances, workshops and masterclasses – all free of charge.

Midori – Founding Patron of the CMSC Education Fund – has contributed previously to the work of the CMSC, both in concert and in the offering of masterclasses to up-and-coming Sri Lankan instrumentalists. On this occasion, however, she will be inaugurating the CMSC Scholarship Fund for Exceptionally Gifted Music Students, through the gracious gifting of a benefit concert. Her expressed hope in so doing is to inspire like-minded individuals and corporations to match her generosity by donating sums of money or in-kind services towards the Fund.

The concert is at the Lionel Wendt Theatre and is generously sponsored by the Tokyo Cement Group and the Mohan Tissanayagam Foundation with exclusive media sponsorship by the Wijeya Newspaper Group.

Tickets priced at Rs. 10,000, Rs. 7,500, Rs. 5,000 and Rs. 2,500, available at the Lionel Wendt box-office.