Grammy Award nominated, celebrity American singer Acantha Lang, accompanied by artiste, Emlyn Francis will perform at The Kingsbury Hotel from 30 November till the end of December. This highly acclaimed duo that has performed at the most exclusive venues all over the world will bring their soulful blues and powerful vocals to The Kingsbury during the festive season.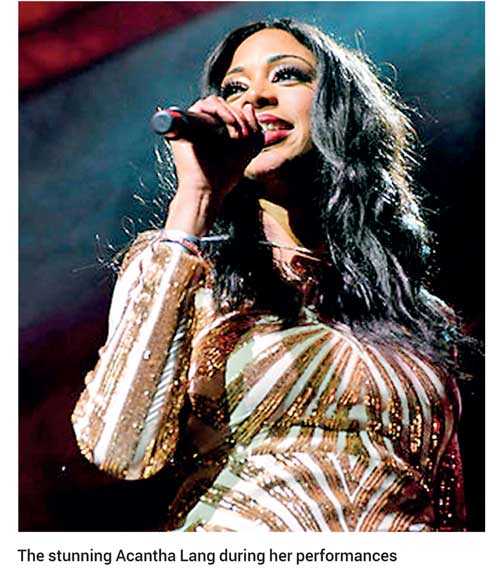 Acantha's upcoming performances are timed to correspond with the transformation of The Kingsbury. The hotel is currently undergoing a complete paradigm shift, with a brand new contemporary and stylish ambience, unique cuisine choices and uplifted standards of stringent service excellence. Five new eclectic restaurants will be launched to offer exciting new dining propositions as the hotel will open its doors to discerning guests of all ages, just in time for the start of the season. Acantha Lang and Emlyn Francis will add that extra glamour and glitz to the new vibrant atmosphere of the hotel.

The stunning Acantha Lang is a blues/soul artist born and raised in New Orleans, Louisiana, whose singing prowess has been praised by the likes of Simon Cowell, who has been quoted to say 'You have one of the best voices I have ever heard.' During her early stints in NYC, she met and collaborated with Robert Randolph & The Family Band – named as one of Rolling Stone magazine's '100 Greatest Guitarists'. Randolph re-recorded 'Gonna Be Alright', one of Acantha's original songs for his album 'Got Soul', which went on to receive a nomination for Best Contemporary Blues Album at the 2018 Grammy Awards.

Following success in the USA, she moved to London and further developed her unique blues/soul/funk sound, performing at many of London's most famous venues, including Ronnie Scott's, the Jazz Café and the 606 Club. Subsequently, Acantha and her band were the official musicians for the 2018 & 2019 Brit Awards Diamond Dinner. During her career, she has performed in Africa, French Guiana, China, Russia, and throughout Europe.

Hayleys Leisure Sector Managing Director Rohan Karr commented, "We are eager to embark on a new era in December as we open our doors to a brand new journey. Acantha Lang and Emlyn Francis, who are celebrated stars will perform throughout the season and will be the perfect complement to this beautiful new chapter of The Kingsbury. Our re-launched restaurants will be a welcome addition to Colombo's business travellers, tourists and socialites."

The grand unveiling of the transformed Kingsbury is highly anticipated among Colombo's clientele as The Kingsbury aims to change the perception of the true meaning of luxury with exquisite dining experiences, stylish ambiences and peerless service excellence. Food connoisseurs and pleasure seekers will have something to look forward to, this season and beyond.