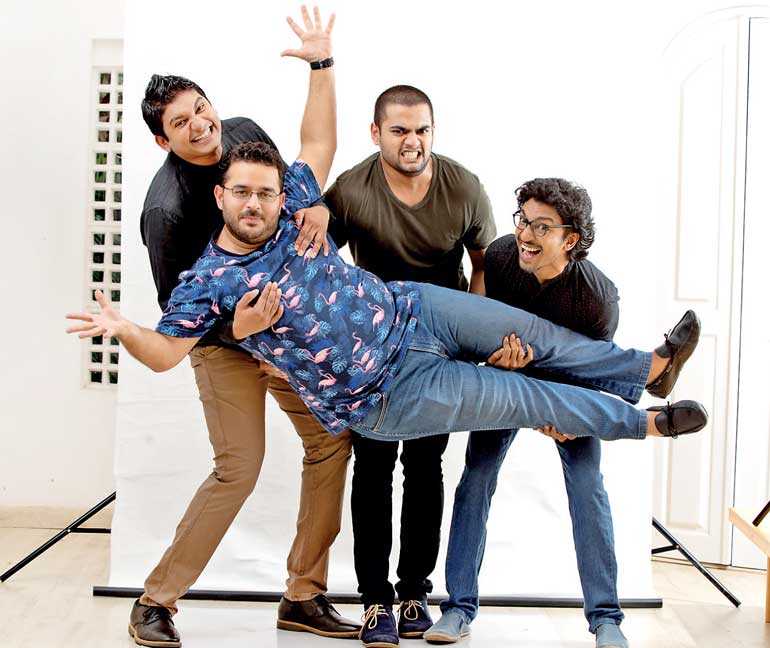 The road to stand-up comedy was one that Gehan Blok and Dino Corera have wanted to explore since they were fresh out of school. Since their debut to the theatre scene, the two, along with Dominic Keller and Pasan Ranawera have expanded their repertoire from farcical, musical and serious drama to becoming familiar names in the local stand-up comedy scene.
In a few days' time, audiences will get a chance to experience a full blown stand-up comedy show 'Politically ඉන්correct' courtesy of their production company Identities Inc. The full length stand-up comedy show will feature all four performers and the deliciously controversial, no holds barred, side splittingly funny and raucous content that the four are known for.

"We always wanted to do stand-up," informs director, Gehan Blok. Their golden opportunity came when Gehan, Dominic and Dino performed at the very first 'Freddy' show by StageLight&Magic Inc. written and directed by Feroze Kamardeen. The comedy show included a 5-6 minute stand up segment. The crowd's response was tremendous and was a stand out in that particular show, so beginning Freddy's evolution into a full blown stand up show in its later editions.

"We are immensely grateful to Feroze and his team for both the opportunity and leap of faith in experimenting with an edgy medium at what's considered a more theatrical venue and we feel this show is a natural progression towards building on stand up experience here at home and coming to our own as stand up performers," explains Dino, who is also the producer for this show.

Stand-up was always a passion of Dominic Keller. But the iconic actor felt that the Sri Lankan temperament wasn't ready for the genre for a long time. "It took a while to understand what the Sri Lankan audiences want. Now people are more open to it and will appreciate good scripts."

What's interesting about 'Politically ඉන්correct' is that all four performers have written their own scripts. They will be tackling subjects that are close to home for each of them together with an introspective observation of Sri Lanka as we know it, right now. "We also wanted to feature local stand-up comedians with different outlooks on life," add Dino and Gehan.

Writing his own script for his very first stand up performance was no joke for Pasan Ranaweera. Audiences know him for his obvious comedic talent, but this time, they will get a taste of the actor's personal style of humour. "It's much darker that people expect from me," he laughs a little ominously.

Writing their own content has been rewarding and challenging for the four. "We had previously written the material pre-Easter attacks therefore we had to revisit all our material to reflect how it affected us personally and collectively as Sri Lankans while commenting on the aftermath and status quo." As with their previous productions under the flag of Identities Inc. the theatre company has always held fast to their vision for creating memorable (if not unorthodox) productions tackling relevant and thought-provoking content with uncompromised entertainment. Their latest production; 'Politically ඉන්correct' then, self explanatorily promises nothing less than that.

'Politically ඉන්correct' is an adults only show and has been approved by the Censor/Public Performances Board of Sri Lanka. The production runs from 20 to 23 September. Tickets are still available for a special matinee performance on 22 September at 10:30 a.m. Tickets priced at Rs. 4,500, Rs. 3,500, Rs. 2,500, Rs. 1,500 and Balcony Rs. 1,000, are available at the Wendt and online on lionelwendt.org. Call 0112 695 794 for more information.