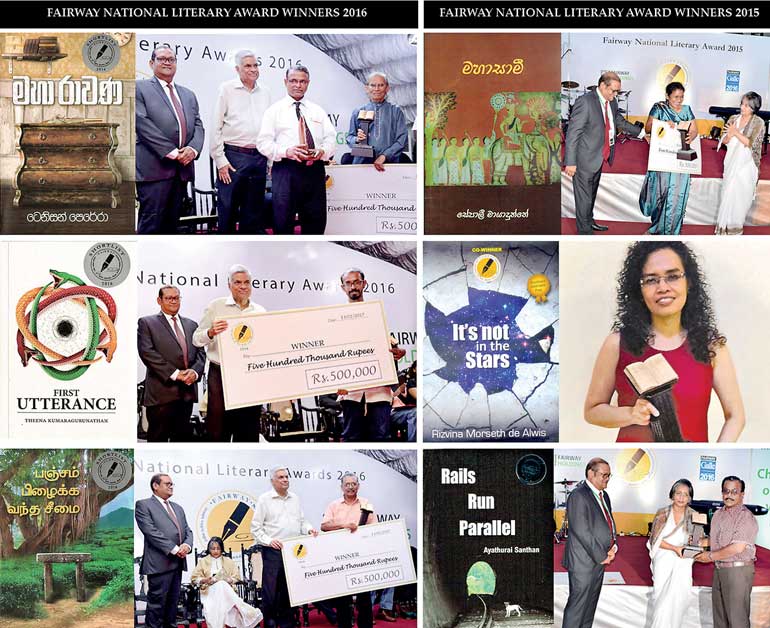 The countdown to the announcement of the 2017 shortlist for the Fairway National Literary awards allows a moment of retrospective reflection about the FNLA, the prize and its past winners. The FNLA was launched in 2015 to encourage, recognise and reward creative writing in Sri Lanka by highlighting good creative writing through the shortlist process and by offering emerging authors the opportunity to reach a wider reading audience. By far the richest purse of its kind, the winner in each of the three language categories receives a handsome cash prize of Rs. 500,000 while the five shortlisted authors in each language category will receive Rs. 100,000 each.

In 2015, the joint winners in the English language category were 'It's not in the stars' by RizvinaMorseth-de Alwis and 'Rails Run Parallel' by Ayathurai Santhan, while the award for the Sinhala language category went to 'Mahasam' by Sepali Mayadunne. The Tamil language prize was not awarded.

Santhan's quietly reflective novel focuses on the geographical and social dislocation resulting from the violence of the ethnic conflict and the profound anxiety that accompanies feelings of diminishing physical security. Morseth's novel examines the nature of perception and truth in relationships which is skilfully interwoven with the social concerns of the Malay community.

The award for the Sinhala novel was won by Sepali Mayadunne for her novel 'Maha Sami'. Erudite and stylised, Maha Sami was five years in the writing and has been described as a 'subtle and creative construction of the life of the Kandyan people and literature'.

Magic realism and fantastical themes dominated the 2016 awards. The veteran Sinhala writer Tennyson Perera whose creative writing spans six decades, won the Sinhala language category with his novel 'Maha Ravana'. Theena Kumaragurunathan who made his debut with the sci-fi dystopian novella 'First Utterance' won the English language category. The winner in the Tamil language category was 'Pancham Pilaika Wantha Seemai' by M. Sivalingam. Kumaragurunathan's 'First Utterance' is the first book of his Miragian Cycle, a trilogy based in an alternate universe.The shortlist for Fairway National Literary Awards 2017 will be announced by the panel of judges on 31 August at the JAIC Hilton.