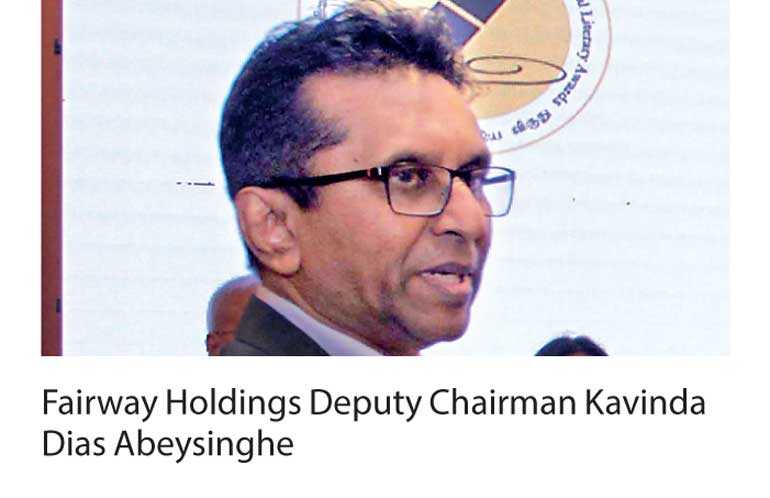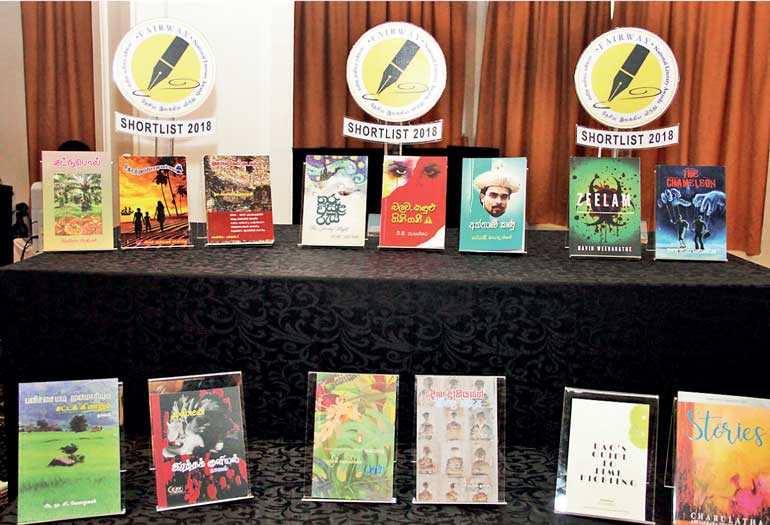 The eagerly anticipated Shortlist for the fourth Fairway National Literary Awards was announced on 30 August at The Kingsbury. Each shortlisted novelist in each language category will receive a valuable cash prize of Rs. 100,000 while the ultimate winning novelist in each language category will receive Rs. 500,000.

The announcement event also revealed the panels of judges in the three language categories for these prestigious awards. The FNLA committee strives to bring together every year a group of distinguished and unbiased judges comprising, in each panel, an academic, a creative person and an informed reader.

The shortlisted novels will now be reviewed again in order to identify the winning novel in each language category, which will be announced at the final award ceremony which will be held later this year.

The Fairway National Literary Awards are presented by Fairway Holdings with the aim of recognising, encouraging and rewarding excellent creative writing in Sri Lanka.
Fairway National Literary Awards
2018 Shortlist
Sinhala category
Aththani Kanu – Sepali Mayadunne
Warana – Padmini Senevirathne
Tharu Visula Reya – Aruna Premarathne
Deshadhrohiyage Nirmala Hardaya – Tharangani Rasika Fernando
Balawa, Kandulu Ginigani – P. B. Jayasekara
English category
Rao's Guide to Lime Pickling – Sandali Handagama
The Chameleon – Seheni Hisara Kariyawasan
Stories – Charulatha Abeysekara Thewarathanthri
Zeelam – Navin Weeraratne
Tamil category
Kattupol – Premila Pratheepan
Thottruponavargal – Seeman Pathinathan Fernando
Irathakkuliyal – Musdeen
Idipadum Kottaikal – N. Yogenthiranathan
Panichaiadi Munmaariyum Sattakkinarum – A. M. S. Velazhakan
Brief bios of

Panel of Judges

Sinhala Language Category

Dr. Jayalath Manorathna: Dr. Manorathna, one of the most consummate actors the country has ever produced is also an acclaimed creator of quite a few much respected stage and television dramas. He is the recipient of numerous national international awards ranging from OCIC, President's Awards, Sarasavi, State Drama and State Literary Awards, Raigam Tele Awards, Sumathi Awards etc. for his invaluable contribution over the last 50 years towards Sinhala Theater, Cinema, Television and literature. Dr Manoratne is one of the few who has studied theater and performing arts including realistic and stylised mode. He obtained a B.A from the University of Peradeniya, an MA and PhD from the University of Jayawardenapura, and a D. Lit. From the University of Peradeniya. Dr. Manoratne is a published poet, short story writer and a novelist as well.

Jayalatha Medawatta: Medawatta is a senior lecturer in Sinhala at the University of Sri Jayawardenapura. She obtained a B. A. and M. Phil from the same university. She has submitted her thesis for a Ph. D. at the University of Peradeniya. Her research area is modern Sinhala literature and she has teaching experience in the field of modern Sinhala fiction. She has published several children's books as well as edited a collection of Piyadasa Sirisena's novels.

Prof. Somaratna Balasuriya: Writer and academic, Prof. Balasooriya is recognised as a trendsetter in modern Sinhalese literature. In a style that is simple and laced with ironic humour and sympathy, he displays deep insight into the social realities of contemporary Sri Lanka. He has published two novels, one collection of poetry and three collections of short stories as well as notable works of non-fiction. His outstanding collection of short stories, Karattaya, examines contemporary social issues. The collection won him the Sri Lanka State Literary Award in 1992 and the Janatha Literary Award in 1993 and was later translated into English as The Cart. Prof. Balasurya holds a Doctorate from the Sorbonne. He was a Professor of Sinhala Language at the University of Kelaniya. He worked in the capacity of Chairman Public Performances Board, Acting Chairman Film Corporation, Chairman Library Services & Documentation Board, Chairman of Sri Lanka Press Council and Director of Sri Lanka Foundation Institute.

English Language Category

Professor Dushyanthi Mendis: Dushyanthi Mendis is a Professor in English at the Department of English of the University of Colombo. She has a BA in English from the University of Peradeniya, an MA in Linguistics from Ohio University, USA, and a PhD in Linguistics from the University of Michigan, Ann Arbor, USA. She has taught English literature, language and linguistics as a Visiting Lecturer at the University of Peradeniya, the Open University of Sri Lanka and the Postgraduate Institute of English, Sri Lanka

Dr. Ramya Chamalie Jirasinghe: Dr. Jirasinghe is a published author of poetry, fiction and non-fiction. Her collection of poems, There's an Island in the Bone won the 2011 State Literary Joint Award. She is the author of several books of non-fiction including Rhythm of the Sea, Trinity, and When Life Touches Life. Ramya was long listed for the Fish Poetry Prize, of Ireland in 2011, and was a joint runner-up to the UK's Guardian Orange First Words Prize of 2009. Her writing has been published internationally and in Sri Lanka. Ramya is the Deputy Director of the U.S.- Sri Lanka Fulbright Commission. She holds a MA in Comparative Literature from SOAS, University of London and a PhD in International Relations from the University of Colombo. Her next book, Love Poems from a Frangipani Garden, will be published by Mica Press, U.K.

Tassie Seneviratne: Seneviratne is a retired Senior Superintendent of Police who has a distinguished record of 37 years in the Sri Lanka Police from 1958-1995. He has a keen interest in Law and Order and Human Rights and contributes to several publications regularly. He is the author of 'Human Rights and Policing'.

Tamil Language Category

Dr. Pavithra Kailasapathy: Dr. Kaillasapathy is a Senior Lecturer in Human Resources Management at the Faculty of Management and Finance, University of Colombo, Sri Lanka. She is currently Head of the Department of Human Resources Management. She has a BBA degree from the University of Colombo and a Master's from the New School for Social Research, New York and the University of Massachusetts, Amherst, USA and PhD from the University of Melbourne, Australia. Since 2013 Dr. Kaillasapathy has been an Associate Editor of the South Asian Journal of Human Resources Management (Sage Publishers). Her research interests are in the areas of work-family conflict and gender issues in organisations. She lectures in areas such as HRM, Research Methodology, and Gender Issues in Organisations. She is a reviewer of papers for many local and international journals and conferences.

Lareena Abdul Haq: Haq is a Lecturer at Department of Languages, Faculty of Social Sciences and Languages, Sabaragamuwa University of Sri Lanka, Belihuloya. She is a social activist, poet and a translator. She obtained a B.A. (Hons) in Tamil (Peradeniya), M.Phil. (Peradeniya) and is currently reading for a Ph.D. (Peradeniya). She has won several national and provincial literary awards for her published work.

Muralitharan Mauran: Mauran works as a Software Developer in Colombo. He is a critic, translator, blogger as well as a public speaker. As a member of Mass Movement For Social Justice, Literary Secretary of Thesiya Kalai Ilakkiya Peravai (art and literature organisation started in 1974) and Coordinator of Social Science Study Circle – Colombo he has been continuously engaged as a literary critique. He is the Co-founder of Noolaham e-library project and involved in local language computing and Tamil glossary development too.