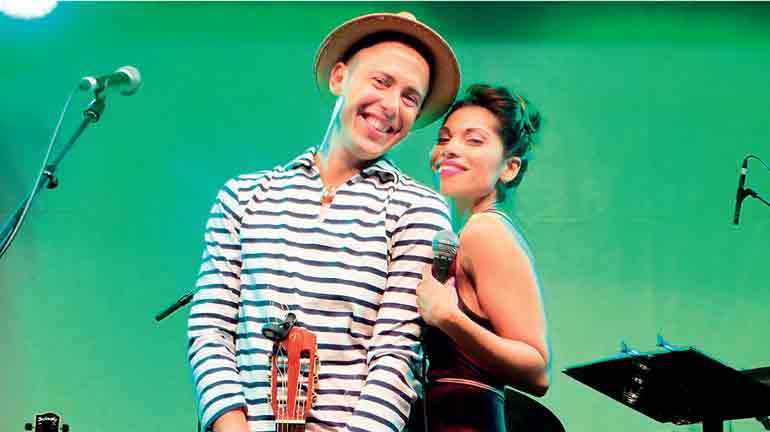 ---
Evenings of music and entertainment that the whole family can enjoy at Cinnamon Lakeside Colombo
Bringing the best of soul-soothing sounds and top local and international jazz musicians to Colombo, Cinnamon Life in partnership with Nations Trust Bank is set to present 'Jazz by the Lake' – a series of Sunday evenings that will fuse great music, a relaxing ambience, spectacular views with outdoor benches and live action-stations to create the ultimate lifestyle event in the city.

Kick-starting on 20 October the Jazz by the Lake evenings will run on the last Sunday of the month at the poolside terrace at Cinnamon Lakeside Colombo from 4 p.m. to 9 p.m.

With Colombo rapidly evolving into a rising metropolis, there is now a growing demand in the city for innovative recreational and entertainment options. In that spirit, Cinnamon is pleased to add Jazz by the Lake to its iconic line-up of lifestyle experiences and mega-events in the city. This unique event will offer the chance for family and friends to relax and unwind together as they enjoy the sounds of top jazz musicians performing in the heart of Colombo.

The line-up for the next four months will include Charmaine Jones, who is fondly known as Adelaide's vocal darling, and has collaborated with many international musicians including Paul Grobowsky, Paul Kelly, Michael Bublé, Naturally7, Darlene Love, James Morrison, Leo Sayer, Velanga Khoza, Lior ad Mama Kin and more.

Also joining the line-up will be The Soul – a band known for their distinct style and who perform music from a range of genres, including blues, rock, reggae, funk, and soul along with jazz, pop and RnB. The line-up will also include performances by the highly acclaimed Echostix.

Jazz by the Lake is an initiative of John Keells Holdings Vice President, Cinnamon Hotels & Resorts Food and Beverage/Culinary Head and Cinnamon Lakeside Colombo General Manager Rohan Fernandopulle, who stated: "We are extremely pleased to launch Jazz by the Lake this month, a novel lifestyle event at Cinnamon Lakeside, the resort in the city.

"The event which will be a regular feature in the hotel's calendar and supported by Cinnamon Life will take Colombo's entertainment offering to new heights. It will provide live jazz in a picturesque setting, with food and beverage deals to complement a one-of-a-kind relaxed Sunday experience, as well as a platform to showcase great talent to local audiences."

"The Cinnamon Life brand has celebrated a variety of inspiring performances, celebrities and special events in the city over the years and we are delighted to add to the brand's ever-growing portfolio of events that are truly establishing Colombo, and Cinnamon Life as the epicentre for entertainment in the region," commented Cinnamon Hotels & Resorts Brand Marketing Head, John Keells Group Vice President and Cinnamon Life Mall CEO Dileep Mudadeniya.

Cinnamon Life is the first premier real estate development of its kind in Sri Lanka. A city within a city, this iconic project will redefine Colombo's skyline and deliver a vibrant lifestyle experience at every touch point.

Set to be the heartbeat of the city whilst making its mark as Colombo's lifestyle capital, the property will feature the finest Cinnamon hotels, state-of-the-art shopping arcades, theatres, office spaces, multipurpose entertainment venues, restaurants and apartments – that will all offer the epitome of exclusivity and luxury.

A place where you can enjoy everything from phenomenal fine dining and gastronomical journeys, to concerts featuring global music stars to immersive world-class retail experiences, Cinnamon Life will be the city's ultimate lifestyle and entertainment hub.

This series of events is organised in association with Nation's Trust Bank along with print media partners Daily Mirror, Sunday Times and Daily FT, and radio partners YES FM and Legends.

Tickets are available via the Cinnamon Box Office (www.cinnamonboxoffice.com) and are priced at Rs. 1,000. For more information,

Contact – +94 71 7114 111

Email – events@cinnamonhotels.com.