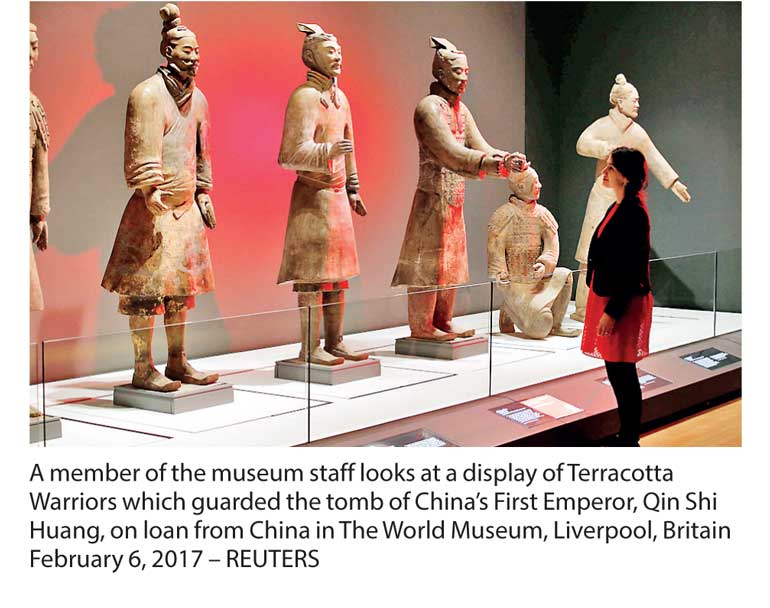 LIVERPOOL, England (Reuters): Figures from China's famed Terracotta Army go on display in a museum in Liverpool this week, a decade after the life-sized sculptures were first showcased in Britain to throngs of visitors.

The highlights of the exhibition are 10 life-size figures – including a terracotta cavalry horse – which form part of the 2,000-year-old army that guarded the tomb of China's First Emperor, Qin Shihuangdi.

Held in Liverpool's World Museum, the exhibit also features a collection of more than 180 Chinese artefacts, from a period in Chinese history spanning almost 1,000 years.

Built as part of emperor Qin Shihuangdi's 56 sq km (21 square mile) tomb complex, the warriors were discovered by villagers in 1974, and excavations have been taking place at the site ever since. So far, three pits filled with over 2,000 statues, each with its own unique design, have been unearthed. There are estimated to be between 7,000-8,000 figures in total. Qin Shihuangdi is regarded as having laid the foundations for Chinese society. Between 221 BC and his death in 210 BC he imposed the Qin penal code, created a single currency, standardised weights and measures and imposed a single written language and bureaucracy in China.

The warriors' first visit to Britain, for a 2007-2008 exhibition in the British Museum, proved highly popular: It drew 850,000 visitors, making it the second most-visited exhibition in the museum's history after a 1972 Tutankhamun showcase.

The exhibit opens on Feb. 9 and runs until Oct. 28 at Liverpool's World Museum.