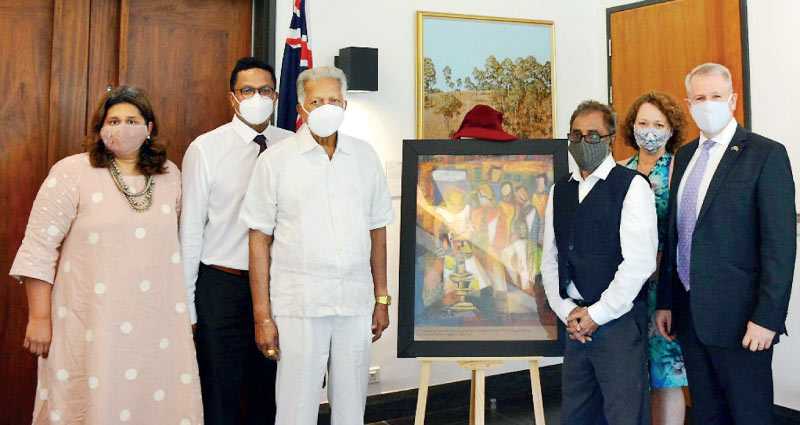 Guests Serena Fernando, Dilhan Fernando and Merrill Fernando, with Raja Segar, Monica Holly and High Commissioner David Holly
---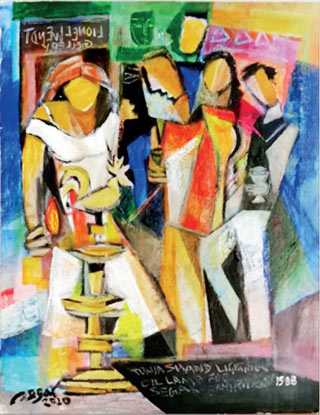 Painting of Tonia lighting the oil lamp at the Segar exhibition, Lionel Wendt Art Gallery, 1988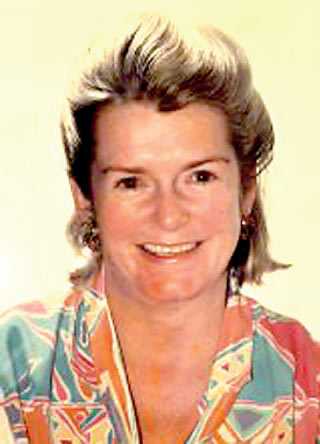 Tonia Shand AM, Australian High Commissioner to Sri Lanka 1988-1991
---
Renowned Sri Lankan artist Raja Segar has paid tribute to former Australian High Commissioner to Sri Lanka Tonia Shand AM, with the unveiling of a new painting at Australia House.

Depicting Shand lighting an oil lamp at the opening of the Segar Exhibition in Colombo, the artistic tribute was created by the artist following Shand's passing in July 2020. The painting honours Shand's enduring impact on and connection to Sri Lanka. The painting was formally unveiled by Merrill Fernando in the presence of Australian High Commissioner David Holly.

Segar reflected at the event on the 'great impact' Shand had had on his art and future successes. He remembered Shand as a great connoisseur and supporter of Sri Lankan art and her engagement with the 'simple day to day life of ordinary people in Sri Lanka', including through her avid collection of his greeting cards of the same.

Close friends of Shand and Dilmah Tea founder Merrill Fernando, and members of the Fernando family, were also in attendance. Dilhan Fernando remembered Shand as 'warm, always sincere and incredibly astute, the perfect representative for a nation with those same characteristics. Supported by her husband Ric, she was a legend in the diplomatic community and represented the best of Australia in Sri Lanka. As a vibrant personality whose presence was always larger than life, she would have loved this vivid portrayal of her 'illuminating' a Segar Exhibition'.

Merrill Fernando spoke of Ms Shand as a 'warm human being who brought enormous credit to Australia', and expressed his 'eternal' gratitude to Shand and Australia for their support in helping him make Dilmah tea the number three tea brand in the world.

Family member Fiona Shand sent a tribute which was read at the ceremony, stating that "Sri Lanka was Tonia's last official overseas post for DFAT and one of the greatest enduring loves of her life, aside from [her family] Ricky and Brigitte. She would be deeply honoured by this acknowledgment and the beautiful work by Raja Segar, as she was by the naming of the Tonia Shand meeting room in the High Commission in Sri Lanka."

As Australia and Sri Lanka look forward to 75 years of diplomatic relations in 2022, the presence of this work in the High Commission's Shand Room will symbolise the strengthening friendship that Tonia contributed to building between Australia and Sri Lanka. Built on our shared values and personal links, the growing collaboration ranging from education to trade and defence to COVID-19 response, are but a few examples of our rich friendship.

Tonia Shand AM was a pioneering Australian diplomat, who served as Australia's first female High Commissioner to Sri Lanka from 1988-1991. Witty and well-loved, Shand's determination and work ethic saw her overcome barriers to blaze a path for women in Australia's and the global foreign service – a legacy which we continue to benefit from today.

During a varied international career, Shand built a reputation for her vivacity, intelligence and genuine interest in people and their circumstances. In Sri Lanka, Shand travelled throughout the country to understand its diverse character and became known for her social cricket matches. Shand 'loved Sri Lanka and its people', and the deep relationships she built are emblematic of our countries' long-standing ties.