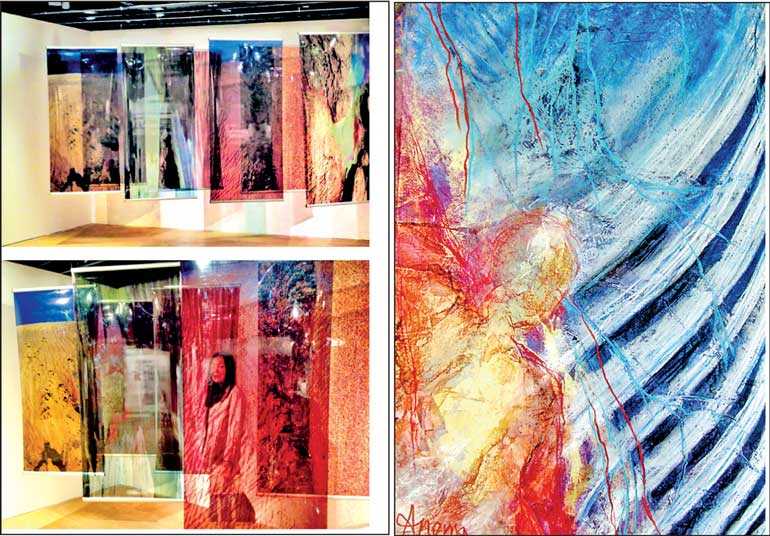 ---
By Dr. Tara Coomaraswamy

The impressive monograph Anoma features artist Anoma Wijewardene, whose career spans 45 years. Trained at London's iconic Central St. Martin's College of Art and Design, her distinctive artworks have been exhibited internationally, including at Sotheby's in Hong Kong, and currently at the famed Venice Biennale. Much has been written about her work, but 'Anoma' is the first comprehensive review of her entire output.

This is neither a coffee table trophy for elite drawing rooms, nor a dry catalogue, with erudite and incomprehensible articles. It is a beautiful and honest book about a phenomenal artist and tells the story of a very personal artistic journey which moves, excites and inspires. Stunningly produced, from its aqua and carmine red cover to its 250 glossy pages, this elegant book is a work of art in itself. The art within it is, simply, mesmerising: gloriously colourful yet ethereal, allusive, haunting.

Anoma's exhibitions are presented chronologically, showing stylistic shifts and thematic preoccupations over the course of her career, each one prefaced by short literary quotations which help to situate the work conceptually. Interspersed with the paintings is some lovely poetry by Ramya Jirasinghe, inspired by the exhibitions Deliverance and Earthlines and interlocuting many of the paintings.

A novel feature is a description by the artist of her working process, through images, sketchbooks and text. It is a fascinating insight into how her creative process unfolds, providing a backstory to some of the works. Anoma describes her often tortuous engagement with the work as it evolves as "a kind of love affair with the painting."

Including a Chronology and List of Exhibited works, it is a very comprehensive and carefully conceived book, beautifully designed by the award-winning Micha Weidmann Studio, which has worked with prestigious organisations such as the Royal Academy of Arts and Tate Modern. Its Art Director was Chris Sanderson, of The Future Laboratory, a cutting-edge brand consultancy with clients such as Facebook, Google and Jaguar-Land Rover.

The book contains a series of insightful essays, each with a different perspective on Anoma's work.

Emeritus Professor of Anthropology at Princeton University Gananath Obeysekere

Professor Obeysekere attributes to Anoma a modernism nourished on a "Buddhist awareness," of the fragility of human life and the impermanence of all we see, awakening to a new consciousness, a deeper truth. He sees in her paintings a more transcendental vision of life and existence. In his words, she "helps us to intuit a world outside commonplace everyday life…a visionary space that non-Buddhists and even atheists might be able to grasp."
Noble Sage Gallery, London Director Jana Manuelpillai
Jana's title "A Sri Lankan in Search of the Sublime" reveals his take on Anoma, comparing her to the English Romantic poets who explored connections between our internal spiritual world and the external phenomenal world. Poetry (and by extension all forms of art) are a means of discovering the "sublime," which denotes something immanent and beautiful in nature which is beyond words. Writing when the Industrial Revolution was creating great upheaval and misery, the Romantics saw nature as a source of healing and spiritual comfort.

Jana sees Anoma similarly responding to the destruction and violence around her by advocating recourse to the redemptive and healing power of nature. He traces her use of new metaphors to connect with the intangible; her experimentation with new forms to express new and difficult realities. (Anoma was the first Sri Lankan artist to explore mixed media installations, digital art and video installation.)
Freelance art writer and critic Rosalyn D'Mello
D'Mello delves into Anoma's working process, her techniques and use of media, the changing relationship between figuration and abstraction, the incorporation of text into her work. She vividly conjures up the sense of constant and spontaneous improvisation with which Anoma "lets herself happen," from the moment of inspiration – described as "the seizing of instants" – to the "cosmic command" dictating choice of media, and the "intensive layering of materials and pigments" – simultaneously creative and destructive – resulting in a multi-layered record of the process of mark-making (what Anoma calls the "palimpsest effect").

Exploring Anoma's sources of inspiration, from religion to the poetry of Rilke and the writing of Arundhati Roy, D'Mello traces Anoma's personal evolution over successive exhibitions: coming to terms with personal pain and loss through a burgeoning feminist consciousness; her growing response to societal and natural events: ethnic conflict, the 2004 tsunami, climate change, migration. Solitude, Faith, Flight, Quest, Transformation, Power, Phoenix, Earthlines, and Deliverance: the titles alone tell the story of the artist's personal, psychological and political journey. Many of these shows involved collaborations with poets, musicians, environmentalists, activists and political analysts. D'Mello sees Anoma's work as "responding to a deep malaise in the world-soul." Her repeated themes are calls for inclusivity, harmony and co-existence. Through her work she urges us to create a new form of symbiosis, both with each other and with nature.

This is an artist who actively engages with current issues. Though she removes herself from the world in order to paint, she is deeply embedded in it. She is on the cusp of current events, and in one bizarre instance, actually prefigured them. Her exhibition Faith, juxtaposing paintings about Buddhism and Islam – "an attempt to unite faiths and peoples in apparent conflict" – was in preparation when the Taliban blew up the Bamiyan Buddhas.

Two essays follow which, rather than approaching Anoma's art from a critical or analytical perspective, tell us of the person behind the paintings. While avoiding those dread words "hybrid" and "fusion," they discuss Anoma as a product of two social milieux, Ceylon/Sri Lanka and England:

University of the Arts, London Pro Vice Chancellor and Fellow of the Royal Society of the Arts Prof.
Emerita Jane Rapley, OBE
Rapley's fascinating account reveals the multiple dualities which constituted the young Anoma, including the contrast between her conservative family background in Ceylon and the unconventional life she led in London. We see her transformation from a shy young girl, to a confident woman sampling all that London had to offer in the form of "highbrow" culture: art, theatre, music and literature, experiencing English society at both the pop culture and "Sloaney" gentry ends, her Bohemian urban lifestyle as an art student transmuted after marriage into that of an English country-dwelling aristocrat.

Few know that Anoma had a highly successful career as a textile designer, dealing with the avant-garde of the art and fashion world in London and New York, with clients such as Yves St Laurent, Jean-Paul Gaultier, Pierre Cardin and Cacharel. Her work appeared in Vogue, Harper's Bazaar and all the major newspapers in Britain. After marriage, Anoma turned increasingly to painting. Rapley makes the astute connection between the two, pointing out that her design work taught her much about colour, and the experience of the tactility of fabrics influenced her art, which has a uniquely textural quality.
Sri Lankan writer and editor Richard Simon
Simon describes Anoma's background and the influence of family– in particular her dynamic and charismatic father – on her life; her departure in 1969 and somewhat painful return, after 30 years, to Sri Lanka. "Here was someone who was uprooted not once, but twice." How did someone in these circumstances remake her life?

As the book proves, Anoma successfully created her own artistic space. The richness of her art shows how diverse are the influences she has absorbed. She defies categorisation and labels of all kinds, following her own idiosyncratic path, her own artistic instincts. She has created an art which is unique: ethereal yet deep, metaphorical and allusive, most closely akin to poetry and music (two great influences in her life). Anoma has exhibited worldwide. Her paintings hang even in exotic locations like Addis Ababa, Belize, Hawaii and Myanmar. It even hangs in the middle of the Australian Bush.

She is the first solo Sri Lanka artist to exhibit at the prestigious Venice Biennale. Her multi-sensory installation Kintsugi is currently on display. Incorporating the poetry of Romesh Gunesekera, the music of Sharon Smith and the scent of Cinnamon, Kintsugi is about diversity and coexistence, an appeal to hearts and minds through the senses as well as the intellect, in the context of growing religious disharmony and anxiety in Sri Lanka, culminating in the recent Easter Sunday events. It asks the questions: "How can we repair the damage to create a new and better society from the shards of the past? How can we find beauty in our differences?"

We should perhaps let Anoma have the last word: "My work reflects on the universality of man and our common humanity in the face of conflict, misguided religious fervour and human insecurity, and invites us to accept the teachings of all religions which emphasise tolerance and the acceptance of the stewardship we share of our fragile and fractured planet, along with care for our fellow human beings."

A limited edition of the monograph 'Anoma' will be available from 10 September at Barefoot Bookshop and Urban Island, Colombo.


(The writer is a teacher and researcher.)