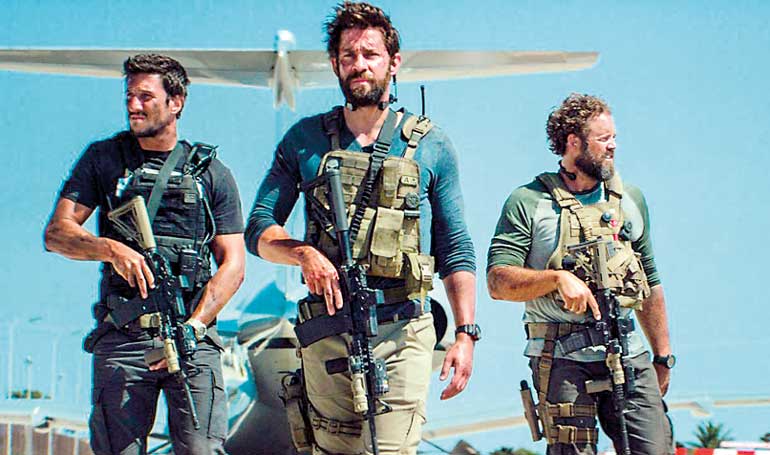 Hollywood movie '13 Hours the Secret Soldiers of Bengazi' will be released today in six cinemas in Sri Lanka. This film is imported by Liberty Cinemas Ltd.

The six cinemas are Empire – Gold, MC Gold – Cinema, Vista – Ja ela, Sky Lite – Matara, Chaya –Kegalle and Regal – Colombo.

The movie 13 Hours: The Secret Soldiers of Benghazi (also known simply as 13 Hours) is a 2016 American biographical war film directed and co-produced by Michael Bay and written by Chuck Hogan, based on Mitchell Zuckoff's 2014 book 13 Hours. Billed as being based on a true story, the film follows six members of a security team who fight to defend the American diplomatic compound in Benghazi, Libya after waves of terrorist attacks on 11 September 2012. The film stars James Badge Dale, John Krasinski, Max Martini, Toby Stephens, Pablo Schreiber, David Denman, Dominic Fumusa, Freddie Stroma, and Alexia Barlier.

The film's story revolves around a 11 September 2012, Islamic militants attack on the US Consulate in Benghazi, Libya, killing Ambassador J. Christopher Stevens and Sean Smith, an officer for the Foreign Service.

Stationed less than one mile away are members (James Badge Dale, John Krasinski, Max Martini) of the Annex Security Team, former soldiers assigned to protect operatives and diplomats in the city. As the assault rages on, the six men engage the combatants in a fierce fire-fight to save the lives of the remaining Americans.