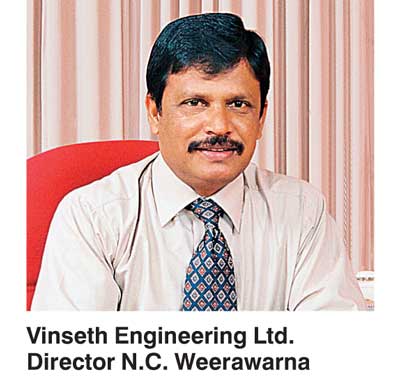 With the growth of solar power generation in the country and in keeping with the Government's vision of generating 200 MW of electricity and powering one million houses through the latest Solar Net Accounting System, Admo Solar recorded a milestone in this sector with the recent successful installation of the Solar Net Accounting System at the official residence of President Maithripala Sirisena.

In the years to come solar power generation will be the way forward. This first step has been taken by the Government to ease the burden on the national grid, which will be beneficial to the consumer as well as the economy of the country. It will also help to generate an additional income to consumers by supplying any additional power generated to the grid, which will be monitored by this new Solar Net Accounting System.

Any individual or business entity can avail themselves of this opportunity and get it installed at their residence or workplace and become an owner of a power plant and a supplier of electricity to the Government and thereby gain an added advantage of being able to earn added income as well with the credits earned by additional power generation.

"Due to our high quality service of excellence, we have gained the trust of our customers and made a name for ourselves in the solar energy sector which has been the driving force and reason for Admo Solar's selection to undertake the installation," stated Vinseth Engineering Ltd. Director N.C. Weerawarna.

"We are proud to have achieved this milestone through a competitive tender process, competing with various other service providers," he added.

"As a prominent solar power provider in the country, we always strive to please our customers by offering high quality, modern and innovative technology while providing the best results that suit our country's infrastructure and climatic conditions. Under no circumstance do we use low quality, unbranded components or equipment for our installations simply to gain short-term profits or provide misleading information to our customers regarding installation, but guide them from step one onwards to the best suited system beneficial to them," reiterated Weerawarna.

In the future, Admo Solar is ready to assist any individual who wishes to avail themselves of the new Solar Net Accounting System. Further information can be obtained at www.admosolar.lk.