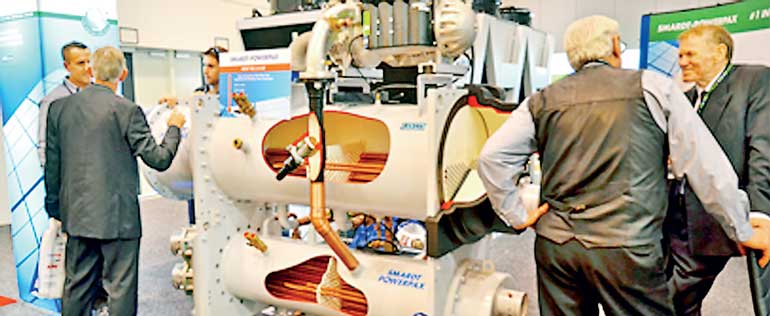 From left: Perth Eco PowerVPRukshan Sheriff, Perth Eco PowerChairman Dammica Wickramaratne,Smardt Chiller Inc.Regional DirectorSam Ringwaidt and Smardt Chiller Inc. Sales Manager Winstow Chow
Perth Eco Power Ltd. (PEP), a company established in 2014 in Perth, Australia by an award-winning entrepreneur Dammica Wickramaratne, was appointed as Distributor for Smardt magnetic bearing chiller for Sri Lanka and the Maldives.

"SMARDT magnetic bearing chiller is the first magnetic bearing technology to enter the Sri Lankan market a year ago and it is the first choice for M&E consultants, M&E contractors, energy conservation, and environment and sustainability engineers. It is the only vendor to have operating units in the country and to have delivered the savings that was promised. These units are acclimatised for local conditions andideal for customers going for LEED or green building ratings. These units can be customised to overcome restrictions on access and movement," said Wickramaratne, who also established Lanka Energy Conservation Ltd., which is handling the sales operations for Sri Lanka.

Sam Ringwaidt, Director Smardt Chiller, said that in the existing HVAC systems used in buildings, there is a consumption of about 50% to 60% of total energy.

"SMARDT magnetic chiller is the choice for existing and new buildings when considering the Return on Investment (ROI)from energy savings," Wickramaratneadded. This is the right time to be in Sri Lanka,he said, adding that as now firms are not only thinking of initial investment, butalso considering the ROI as well. With an efficient HVAC system and dynamic energy and space monitoring system a company has additional value,Wickramaratne said.

"It does not matter whether it is a hospital, school, hotel or an office building; this technology is beneficial to all. In America this technology is in 50% of the market. In Canada and Australia it is higher. We can save about 25% to 35% of your energy consumption compared to other conventional technologies. All this can be had simply by changing your chiller,"he said.

Ringwaidt said that in most commercial buildings there are several types of equipment and personnel that push up the energy consumption of the building, "The US is one of the countries that are setting industry standards in environmental standards. When the HVAC systems are put in they are calculated for the worst case scenario possible. In reality these situation never materialise. Therefore, this means is that one has a system installed which consumes a large amount of power that is no longer affordable."

The solution is high efficiency chillers. According to him, the patented magnetic bearing technology in these chillers levitates the surfaces of the inner bearing so that thereis no metal-to-metal contact, he added, noting that as a result there is no sound, no vibrations and less maintenance cost."Because of this performance, you may have your office space right next to chiller rooms," he said.

"These machines automatically adjust the speed to match the load and work at a higher level of efficiency, which means in layman's terms is that for lesser power you will have the same work done," Ringwaidt said, addressing a forum of industry leaders and bankers at a recently concluded event arranged by AMCHAM.

He said that the installation of these new systems does not impact a company's bottom line, because they save a lot of expense on maintenance and repairs. "The intelligent energy management system that we install will show anyone authorised to access the system and review the current status of the power consumption of the building."

Global reach, single focus

Smardt (founded in Montreal, Canada in 2005 to focus on oil-free centrifugal chillers) and PowerPax (founded in Melbourne, Australia in 2000 as a specialist heat-exchanger group), joined forces during 2005 to form the Smardt Chiller Group.

After several years of rapid growth, a new Smardt factory was opened in Plattsburgh, New York in 2010, and a sales and service operation opened in Singapore. In 2011, Smardt was joined by the well-known OPK Klimatechnik business in Stuttgart, Germany – an outstanding European pioneer in oil-free centrifugal technology. In early 2012, Smardt's China manufacturing operations opened in Guangzhou, Guangdong.

In the heart of every Smardt chiller is its Turbocor oil-free centrifugal compressors, which integrate rugged magnetic bearings systems with variable-speed drive, high-efficiency centrifugal compression and on-board digital electronics to achieve a revolutionary leap, a quantum leap, in part-load energy efficiency.