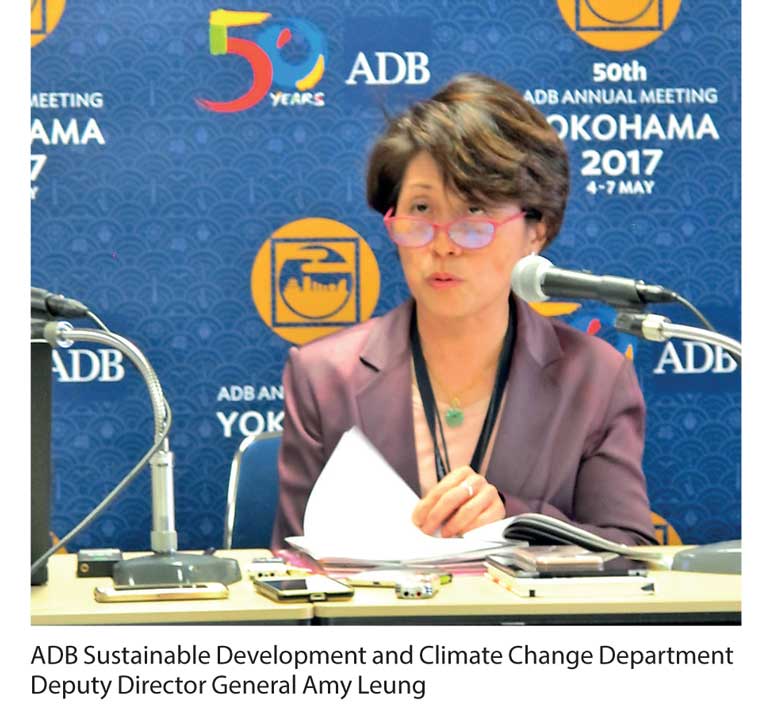 By Charumini de Silva in Yokohama, Japan

The Asian Development Bank (ADB) on Wednesday shared a broad-based vision to secure water in the Asia Pacific with a commitment of $4.2 billion for 2017, calling on all countries for long-term ecosystems-based projects to mitigate future threats.

Addressing a session on Water and Issues, ADB Sustainable Development and Climate Change Department Deputy Director General Amy Leung said that with high economic and growth population in the region, demand for water in agriculture, domestic and industrial is expected to increase by 30% - 40% by 2050, leading Asia to be the lowest water per capita in the coming years.

Citing to a study conducted by ADB, she said that 29 out of 48 countries in Asia Pacific region is water insecure. Thereby, she asserted that ADB would promote and focus on more innovative and transformative technology with a special attention on using remote technology.

As water issues become more complex and more interconnected, she said ADB would diversify its investments to support more comprehensive and integrated projects in going forward.

"This year we have some very interesting projects in India, Pakistan, Vietnam, but the most interesting project we are processing is the Yangtze river economic belt project in China. This is a four-year project which the ADB is planning to lend a total of $2 billion to the Government of China, to revitalise and to improve the green industrial transportation. This project will enable to use the river as a means of transportation while protecting the ecosystem along the area. This is the integrated holistic way of doing our water projects in the region in future," she explained.

She also said that from the beginning of this year the ADB has commenced combining its concessional and ordinary capital lending and as a result they would be in a better position to facilitate long-term sustainable water projects in the region.

"We hope that this will enable us to lend more and we expect that the water projects will go up by 50% in the coming years," added.

Furthermore she stressed that the ADB has given a lot of emphasis on cross sector collaborations, to improve energy efficiency in water supply and to address the rising concerns on water insecurity within the Asia Pacific region.

"If we can use energy efficiency in water supply, that will help reduce a massive amount of emissions, which will help to meet the climate mitigate expectations. At the same time ADB will be using climate adaptation projects which will definitely be more resilient," she stated.

She highlighted governance and asset management as two key factors for water security pointing out that there is a huge wastage of water due to poorly maintained water infrastructure.

"If the countries can minimise 50% of the leakages in the water systems and maintain the infrastructure, we can easily provide water to over 150 million people without building any new facility. While taking measures for water security with innovative technologies and systems, governance and asset management is critical for water security," she pointed out.

According to her ADB is currently working with the International Institute for Applied System Analysis to publish a book on 'Asia Water Futures and Solution', a global study using very sophisticated multimodal global water scenarios including climate change and socioeconomic changes to identify the future hotspots globally.