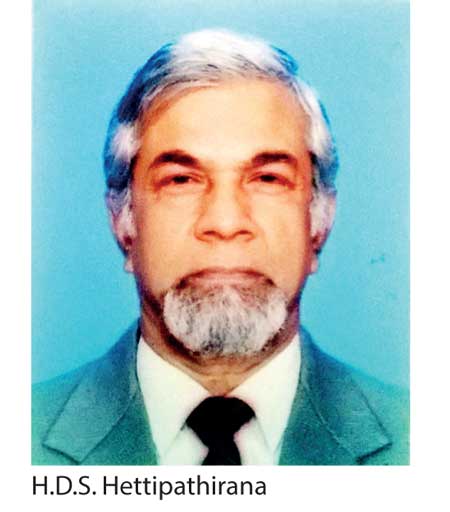 The pressing issue of garbage dumping and the issues that coexist with it cannot be conveniently put aside and forgotten as all of us are partakers of this issue and have indirectly contributed to the catastrophic consequences. It is profoundly felt that it is never too late to take action against inaction.

It is with this sole intention that this timely concept put forth by H.D.S. Hettipathirana of Kandy, a retired Director/Principal of Technical College, Aruppola is shared through this article. With over 40 years of expertise in the technical field he has come forward with a timely solution in the form of a Garbage Recycling Plant that could receive, separate and prepare recyclable material out of the tons of garbage collected on a daily basis.

Speaking on his concept, Hettipathirana had this to say: "My intention was to come up with a viable and an economically feasible solution to mitigate this garbage dumping issues. This eats away at the quality of life of the present generation whilst making compromises with the future generations too. I was greatly devastated to learn about the landslide that claimed many valuable lives at Meethotamulla and as an active and a responsible citizen this is my attempt at giving back to society. The plant I have designed could be introduced and launched at a minimum cost at electorate level to begin with."

This simple plant is made out of an inlet chamber, two cylindrical sieve barrels that sort the garbage according to their size and an outlet chamber that further separates the fusible and the solid waste. This plant has the ability to simplify the garbage sorting process and garbage is sorted at four different levels by the collection bays situated at the bottom of the cylindrical sieve barrels and the outlet chamber.

Supposing the rotating speed of the sieve barrel is 60 rpm and the diameter of the barrel is two meters, the garbage fed in will push 12 meters from the inlet towards the outlet automatically. Thus it has the ability to process three tons of garbage at any given time with the inlet chamber being able to add more and more garbage for processing as and when the garbage is sorted.

The long sieve barrels strongly fabricated with iron is designed with a substantial square sieve mesh and a slope that facilitates the easy flow of garbage from the inlet towards the outlet. The process is further accelerated through the two fold outlet chamber which separates the fusible and the solid waste. It is learnt that this concept and model is presently awaiting patent approval.

This initiative is promoted by Sajitha De Mel, President Inventors and Entrepreneurs Consortium, who believes that fullest support should be extended for such ventures resulting in greater good for society and people at large. Thus it is his belief that much attention should be paid to new inventions and concepts that could serve to address such pressing issues. He intends to create a platform for new initiatives through the Inventors and entrepreneurs Consortium.

It is also learnt that the Central Environment Authority's vision remains to promote source separation, recycling, composting and implement a waste to energy action by 2030. If so, it is needless to say that this simple and easy to implement concept that is both economically and environmentally viable could prove to be the ideal solution we all have been waiting for.

As statistics speak appx. 6,500-7,000 MT of garbage per annum is disposed in Sri Lanka out of which only 39% is presently collected. Out of this 39%, an approximation of 58.6% garbage is collected within the Western Province alone. Bad quality of the garbage collected and inefficient and incorrect separation processes result in mass collection of garbage. This garbage recycling plant has the ability to address all of these issues of receiving, separating and preparing the material for recycling. It is an all-in-one solution. If so it indeed looks very promising in mitigating the biggest environmental concern of present times.

When considering the existing garbage mounds it must be noted that the risks and threats of more and more occurrences similar to that of Meethotamulla garbage dump is unavoidable unless effective measures are taken. As the decaying process is likely to cause garbage dumps to weaken with time, increasing the risks of more and more incidents of this nature understanding the hazard alone is insufficient in itself. Authorities must seriously concern themselves in mitigating the potential disasters that underlie and must take action to manage them. This breakthrough concept could very well be the solution that we have been waiting for.

It is also learnt that an odourless food waste recycler that reduces food waste by over three- fourths of its original volume for domestic and small scale food industry use is also in the design pipeline. More information could be obtained by calling 0777-006251 or 071 474 0006.