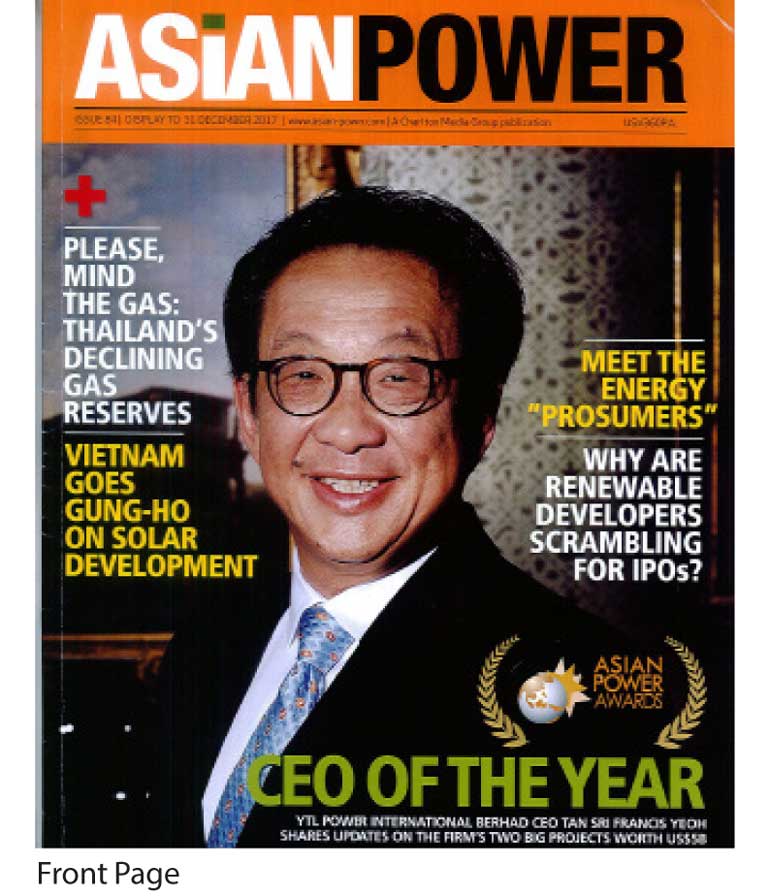 Subsidiary of LTL Holdings, Lakdhanavi Ltd. was awarded 'Power Utility of the Year' and 'Innovative Power Technology of the Year Sri Lanka' at Asian Power Awards 2017
Having commenced operations with an investment of Rs. 8.5 million to manufacture transformers, LTL Holdings has today become the premier engineering company in Sri Lanka and has also extended its operations overseas, relishing wide international recognition in its achievements.

Being the leading engineering company of the power sector in Sri Lanka, LTL Holdings has diversified into power generation, electricity infrastructure development, and hot dip galvanising whilst modernising and improving the transformer manufacturing activity, thus covering the entire value chain of the power sector.

The transformer manufacturing facility has a very strong commitment to excellence which is showcased in its superior product range. Catering to over 20 countries globally, it is this attention to detail and quality that has allowed the company to become a major player in the international engineering arena. Over 50% of the products are exported, after meeting the entire domestic requirements.

Dynamic engineering

Lakdhanavi Ltd. is a subsidiary of LTL Holdings which is the power generating arm of the company, a dynamic engineering enterprise engaged in manufacturing, construction and service industries spanning across electrical, mechanical and civil engineering fields in Sri Lanka and overseas.

Lakdhanavi is renowned as Engineering, Procurement and Construction [EPC] contractor and O&M contractor for major power projects, including combined cycle power plants, diesel engines based power plants, mini hydro power plants and wind power plants.

Such is the steady growth of the company that LTL has also pioneered Independent Power Production (IPP) in Sri Lanka. Lakdhanavi is the first independent power producer in Sri Lanka to build a 24MW diesel engine power plant, which operated on HFO at Sapugaskanda, Sri Lanka since 1997.

Lakdhanavi has also successfully completed the EPC contract of 100MW Heladhanavi power plant at Puttalam, Sri Lanka in 2004 and was the Operation and Maintenances contractor for this plant. Lakdhanavi also has, sometime back, built and operated a number of emergency power plants to help meet the power shortages in the national system.

This was done at the request of the State power utility. As a power plant operation and maintenance contractor, Lakdhanavi is accredited with IS0 9001:2008 (Quality), ISO 14001: 2004 (Environmental management), andOHAS 18001:2007 (0ccupational health &safety) standards.

The trademark project Lakdhanavi undertook in 2007 was to build and operate a multi-fuel capable Yugadanavi 300MW combined cycle power plant which was the largest power plant project in Sri Lanka at that time.

Phase one of the plant was commissioned in November 2008 with 200MW in open cycle mode in a record 10 months' time and the 100MW second phase of the combined cycle plant was commissioned in February 2010.

Legacy of successful operation

Gas turbines of this Yugadhanavi plant are operated on heavy fuel oil and turbines have completed 65,000 fired hours already. The power plant is continuing its eighth year of commercial operation being one of the crucial power plants to the Sri Lankan grid by playing an anchor role in reliability.

Every year it saves tremendous amount of money for the country by operating with cheap HFO instead of diesel. Past few years Yugadanavi Power Plant was honoured by locally and internationally. In 2016 Yugadanavi Power Plant was awarded the 'Best Utility of the Country for the Year' by Asian Power Awards and also the Silver award for National Occupational Health and Safety Excellence by competing with many sectors within Sri Lanka. In 2017, again it was awarded with the 'British Safety Council Merit Winner' award for Occupational Health and Safety Management.

With the complexity of HFO operation, Yugadanavi has closely worked with OEM, General Electric (GE) by sharing information regarding the HFO operation to improve fuel flexibility, efficiency and reliability as well as reduction of emissions. In this regard several R&D were carried out and results were presented in several forums, in ASME Turbo Expo and Power Gen Asia etc., etc.

Sri Lanka's largest IPP

Lakdhanavi constructed its first power station in 1997 and over the last two decades has grown to be the premier EPC contractor and the largest independent power producer within the power sector of Sri Lanka with an impressive array of achievements.

This includes receiving the prestigious Gold award for 'Best Independent Power Producer' (IPP) at the Asian Power Awards 2008, and also being adjudicated as the 'Best Engineering Organization in the Infrastructure Development Sector of Sri Lanka' at the 2008 Engineering Excellence Awards ceremony organised by the Institute of Engineers Sri Lanka.

LTL is committed to serve its clients to reap the best from its engineering innovations and believes in empowering the local engineering talent to achieve this objective and in the process to develop its own engineering culture and expand its operations globally to provide customised solutions that deliver excellent results to clients in any part of the world.

Being Sri Lanka's premier power engineering company, LTL Holdings, together with its group of companies, will continue to grow, commanding a dominant position at the forefront of global engineering arena.