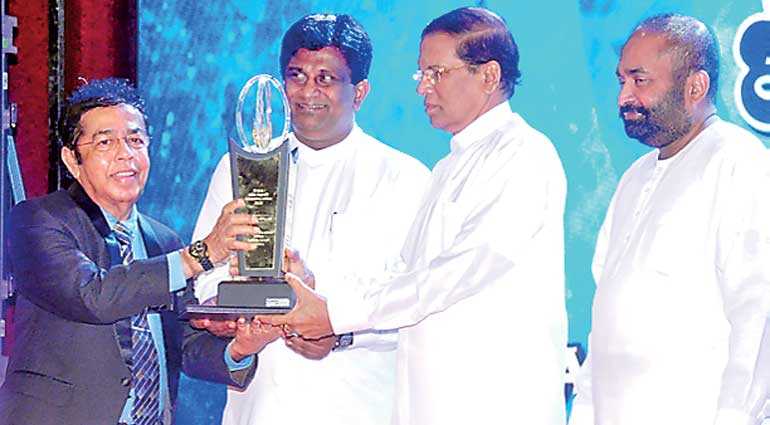 PROMET Chairman/Managing Director M.A. Justin receiving the award from President Maithripala Sirisena
Professional MET Consultancy Services Ltd. (PROMET) was awarded the Gold Flame, in the Technology Providers category of the Best Energy Services Company Award, in the Sri Lanka National Energy Efficiency Awards 2018 held at BMICH recently.

By winning the Gold Flame for the second time, PROMET secures the Best Energy Services Company Award for the seventh consecutive year. The company is primarily engaged in turnkey projects of heat generation systems, such as biomass and oil fired, steam/hot water boilers and thermic fluid heaters.

Furthermore, the company is also involved in fuel switching projects (oil to biomass), industrial roof top solar projects, undertaking of biomass fired steam selling projects, conducting of energy audits, turnkey environmental pollution control projects (water/ air and noise pollution control) and supplying of pumps, instruments, equipment and spares for boilers and heating and additionally, supplying of biomass fuel for energy generation.

The company is a listed consultancy firm in the Central Environmental Authority (CEA) for technical guidance on pollution control activities and also a registered energy services company in the Sustainable Energy Authority (SEA). Furthermore, PROMET is the first energy services company to receive the world renowned ISO 9001:2015 accreditation.


PROMET Chairman/Managing Director M.A. Justin is a well-qualified engineer who gives his enormous contribution in making all the projects company undertakes a great success. The company too has qualified engineers and non- technical team which helps the company to move forward in an easy and rapid pace by making their esteemed clients well satisfied. The company also do have a mechanical erection team of skilled technicians capable of carrying out any form of fabrication and erection work and also have qualified electrical crews capable of handling any type of electrical installation work including power factor correction, energy audit to name a few.

PROMET's clientele spread along various sectors including industry leaders and high performing local and global manufactures. The company has supplied, installed and commissioned many biomass boilers in last few years, which helps the country to save about 42 million litres of imported furnace oil/ diesel per annum through these bio-mass projects implemented by PROMET during 2008 to 2017. From the long list of projects, there are few which give a competitive advantage for PROMET, i.e. the installation of the biggest biomass fired hot water boiler, 11Mnkcal/Hr Hot water Generator to a multinational company and in addition, the installation of the biggest wood fired steam boilers for the process industry, which includes the supply and installation of 2 Nos into 12.5 MT/hr wood fired steam boilers including wood chippers, conveyers, Chimney, APH, MDC, Wet bottom and ducting system. With the company's diversification plan, PROMET launched their new business unit by having an in-house Calibration Lab under PROMET's umbrella. The services provided under this include; industrial services and laboratory services.