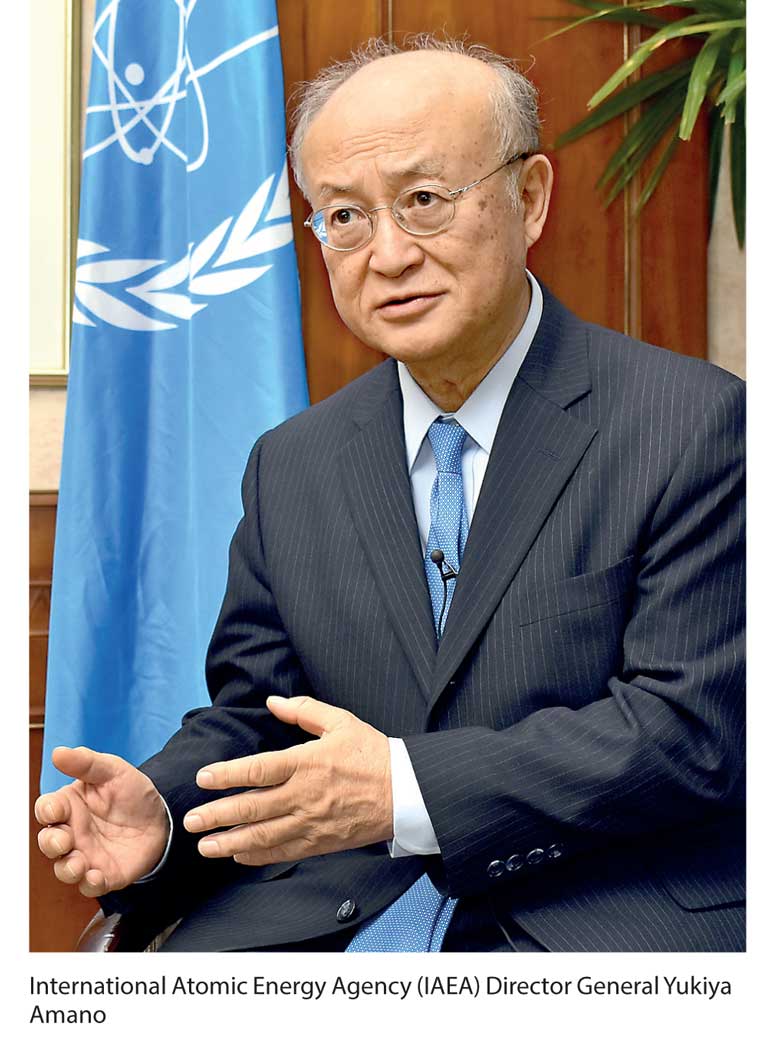 Sri Lanka can tap into nuclear technology to tackle a range of challenges from fighting cancer to climate change, says a top expert
International Atomic Energy Agency (IAEA) Director General Yukiya Amano during a recent visit to Sri Lanka outlined how nuclear technology can assist sustainable development and help developing countries become energy secure. Following are excerpts:
By Uditha Jayasinghe
Q: What are the objectives of IAEA?
A: We have many objectives. We are well known as a nuclear watchdog and we are doing the work related to Iran and North Korea but very importantly we are working to attain Sustainable Development Goals. The Agency works to provide nuclear technology to developing countries so that they can achieve SDGs and in order to do that safety and security is very important.
Q: What are the goals of your visit?
A: I have met top Sri Lankan officials and discussed cooperation on a number of initiatives. Sri Lanka is identified as a model demonstration site for cooperation on cancer control. Your country and IAEA have been cooperating for a long time to help cancer patients by providing equipment, new training and expertise. We are very happy about that. Another issue we have discussed is that the Chronic Kidney Disease in the dry zone.

IAEA is not a health organisation but nuclear technology is very effective to detect and identify pollutants and chemicals in the water. We are already helping Sri Lanka but we have also decided to further strengthen our activities to identify elements in the water and if this water is not safe then it is important to find water that is safe for consumption. I am very keen to assist Sri Lanka in this area and we will certainly be following up on this.
Q: How important is nuclear technology to the world?
A: People do not know that nuclear technology is everywhere. Whether it is the iPad, mobile chips or hardening tyres nuclear technology is used. Everywhere in life nuclear technology is effectively used to improve human and animal health, help farmers and fishermen and protect the environment. Nuclear energy is also important in the supply of electricity. Unfortunately, these facts are not well known and because they are not well known they are not fully understood. I understand many countries, including Sri Lanka, wants to achieve SDGs for the development of the ordinary people and that is why we are emphasising on the use of nuclear technology.

SDGs have recognised science and technology are the basis for development for the first time. IAEA has this should be the case. I am from Japan and development in Japan is based on science and technology. Why not in many other countries? Nuclear energy is a very important part of science and technology. In the coming years I would like to focus more on the activities in developing countries. This would also include better gender balance in the IAEA. We are encouraging young women to be interested in science, particularly nuclear science as part of the effort to increase women's representation in the IAEA.
Q: How can nuclear technology help Sri Lanka fight cancer and address other social issues?
A: Cancer is a major cause of death in many countries. Before it was believed to be a disease of developed countries but that is not true. Many people are suffering from cancer and this is a huge human and economic loss, if we can improve treatment of cancer, cardiovascular and Alzheimer's diseases, we can contribute to the wellbeing of populations.

Agriculture is affected by climate change everywhere. Nuclear technology also includes induced mutation technology accelerates mutation so that we can make seeds and crops more resistant to drought, floods and other climatic changes. We may be able to have crops with larger harvests or more disease resistant. These can be done through nuclear technology.

Safety is also very important. Nowadays it is not enough to grow food, it must also be safe for consumption, otherwise you cannot export. With nuclear technology it is possible to gain certification essential to export safe food. If farmers can export more their income will increase. These are the many ways we can help ordinary people.
Q: How useful is nuclear technology to developing countries?
A: Nuclear technology should be made available to developing countries. It should not just be for developed countries. Since I began my tenure I have been working to increase access of developing countries to nuclear power. The use of nuclear technology is now shifting from West to East, from Europe to Asian, from North to South.

I am very confident that developing countries are able to have and use nuclear power, for example UAE is going to connect its first nuclear reactor to its power grid. For projects such as this public support is needed to understand what nuclear power is and what its benefits are and funding is needed to start it.

In the long run nuclear power is very economical because you can use nuclear power 40-60 years or even longer while other facilities do not have such long life cycles. Of course you need to train people. Sri Lanka has very capable people and infrastructure needs to be strengthened. But if there is public acceptance it is possible to embark on achieving nuclear power.
Q: Given that renewable power is becoming rapidly cheaper as technology improves is nuclear power really necessary for small developing countries?
A: Renewable energy is very important and I am very confident that renewable energy will increase. But it does not mean nuclear power does not have benefits. Every source of energy as advantages and disadvantages. The advantage of nuclear power is it can provide large amounts of power in a very stable manner for extended periods of time.

Nuclear power is not affected by fuel prices, its costs are very, very small and it does not emit climate change gasses. Low carbon energy is supplied by nuclear power so without nuclear power we cannot achieve climate change objectives. However, I think these advantages and disadvantages change depending on the country but common sense demands that countries find the best mix and many countries include nuclear power as part of this energy mix.
Q: How can Sri Lanka, being a small developing country, play a role on the global stage that can benefit its people and provide equilibrium to the rest of the world?
A: I have been long in disarmament and non-proliferation and it is my memory that in 1995 Sri Lanka Ambassador Jayantha Dhanapala took the leadership in international forums. Now I'm working in a different field but there are many talented Sri Lankans who are working in my organisations and helping to smoothly run policy making. Sri Lanka has the advantage as being a reasonable and sensible voice in the international community.

In South-South cooperation the demarcation between developed and developing countries is becoming less clear and Sri Lanka has advanced technology that can be shared with other countries in the region and beyond. IAEA does not have nuclear power plants or hospitals but your country helps us to do our work and this is a two way process. We want to be of assistance and we are helped by you as well. My visit here is to share the priorities of IAEA but we are also learning a lot from Sri Lanka.

Pic by Indraratne Balasuriya