---
Universal College Lanka (UCL) has carved out a niche as the premier tertiary education institute reputed for establishing partnerships with top ranked universities in the world, in their mission to offer higher quality higher education to discerning students in Sri Lanka.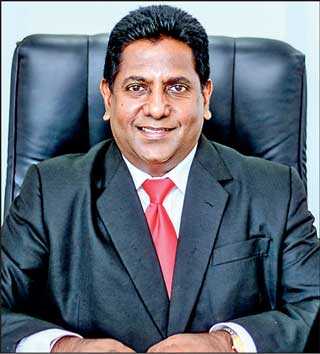 UCL Chief Executive Officer

Gihan Silva


Having set foot on this path in the year 2015, with their exclusive partnership with Monash College, which is wholly owned by Monash University Australia, a Top 100 University in the world, UCL has further strengthened their position in this sphere by partnering with the University of Central Lancashire (UCLan), a top ranked British university founded in Preston in the UK in 1828. The University of Central Lancashire is one of UK's largest universities with a student and staff community approaching 38,000. UCLan is among the first UK higher education institutes to appear in the QS World Rankings and is ranked among the top 3.7% of world universities by the Centre for World University Rankings. UCL Chief Executive Officer Gihan Silva stated, "It is this strong track record that suitably matched our own vision that prompted us to partner with UCLan. UCL's partnership with UCLan enables the realisation of UCL's vision of educating and training work ready professionals who can contribute to the social and economic development locally and internationally. We are privileged to partner with the earliest established British University to offer degree programs in Sri Lanka.

"This partnership builds on our strengths in higher education; academic excellence, our state-of-the-art campus facilities and learning environment; our skill enhancement programmes; and our internship program that ensure our graduates are well rounded and competent with a combination of right knowledge, skills, experience and attitude required for employability now and in the future. These priorities reflect our core values and are at the heart of UCL's vision."

UCLan has been at the forefront of developing degrees for emerging disciplines suited for careers that are set to have a growth trajectory over the next decade and closely reflects the economic priorities of the future business community. In keeping with this approach, UCL offers the BA (Hons) International Business and the BSc (Hons) Software Engineering awarded by the University of Central Lancashire. These degree programs are tailored and customised to ensure that UCL's undergraduates are not only qualified, but also experienced and well suited to secure jobs in the industry immediately upon graduation.

This is facilitated by the one-year internship provided in the third year of both degree programs, in collaboration with the top 25 corporates in Sri Lanka. Students who have performed academically well are granted scholarships up to 40%, while those who possess outstanding achievements in sports and have held leadership positions are eligible for scholarships up to 20%.

Gihan Silva added, "At UCL, we passionately adopt a student centric approach and are committed to providing a holistic learning experience. Whilst pursuing academic excellence, we have launched many initiatives to enhance student engagement and enrich the student experience at UCL. UCL offers a variety of extra-curricular activities including sports such as basketball, football, futsal, badminton, cricket, rowing, swimming, netball, etc.

"A range of indoor games are regularly patronised by our students in our unique UCL Rooftop Student Lounge. The UCL Drama Club was inaugurated to encourage the display of aesthetic, dramatic and creative talent among our students and the UCL Model UN Club is being formed. The UCL Student Council has been established to empower our students and develop their leadership and other soft skills."

In addition, the UCL Talks series with legendary business personalities provide students with exposure to industry leaders to gain inspiration and develop an entrepreneurial mindset and a winning attitude, whilst being socially responsible. All of this and more enables UCL to produce extraordinary graduates who are agile decision-makers, lifelong learners and have what it takes to lead today and in the future.